No Comments
Exalted: A Dark Romantic Thriller by Sansa Rayne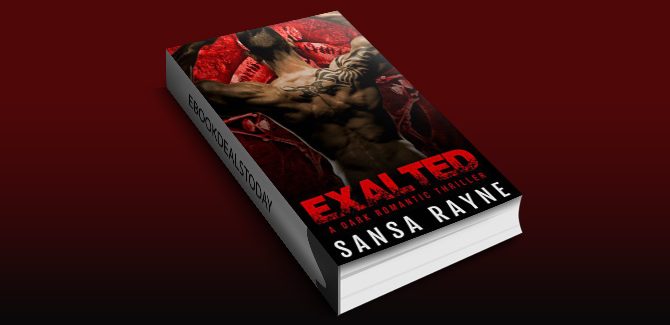 Realtime Price – $3.99
I have a new shepherd now.
I didn't choose to fall for Aldous Occestem. The most hated man in Coventry, he antagonizes the town's beloved megachurch at every opportunity;he operates a notorious, satanic-themed BDSM club; and now he's a suspect in the abduction of my friend, as well as several other missing women. He should repulse me, but I can't resist the way he makes me feel.
He leads me into temptation.
Handsome, dominant and sadistic, he ignites my intense hunger for submission. He doesn't know I'm a private detective, investigating the case on my own. Our relationship started as a cover, but now I'm addicted to his world of carnal sin. Even if he's not the kidnapper, his one-man war with the powerful Pastor Jones is a powder keg ready to explode, and I'll be the one caught in the crossfire.
I fear no evil, for he is with me.
I should get out while I still can, but the deeper I dig into his life, the more I need him in mine. He knows how to soothe the pain from my past. He longs to own me, and I yearn to be his.
Something sinister is happening in Coventry. Innocent or guilty, Aldous is at its center. I won't stop until I know the truth, even if it makes me the target of an unspeakable evil…
Publisher's note: "Exalted" is a dark, romantic thriller with explicit sexual content, including BDSM practices. HEA guaranteed — no cliffhangers, no cheating! Contains material some may find disturbing. Reader discretion is advised.
Genre: Romance, Thriller
Exalted: A Dark Romantic Thriller by Sansa Rayne