No Comments
End Time by Daniel Greene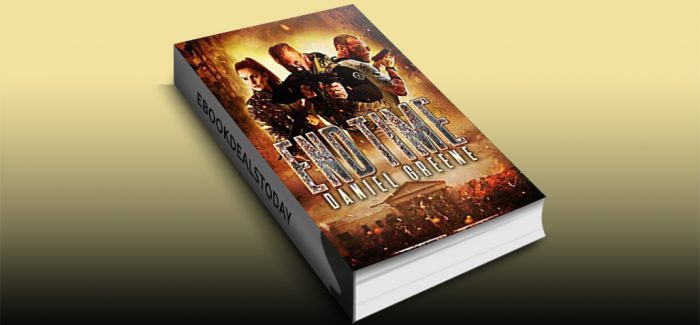 Realtime Price – $2.99
Protests in front of an embassy aren't what they seem…
In the dark primal jungles of the Congo River basin, something is ravaging the local population. When protests turn violent in front of the US Embassy Kinshasa, an overwhelmed US Department of State dispatches a team of elite counterterrorism agents to bring their besieged people back alive.
Mark Steele, a young agent within the Division, and his team of gritty operatives are accustomed to trudging through the worst dregs that society has to offer, all while operating from the shadows. But Steele's team is wading headfirst into a maelstrom of death so much worse than rebels in the streets.
A highly contagious microbe is spreading unchecked through the streets killing everyone in its wake only to bring them back again as the ravenous undead. Only a lone CDC virologist understands the extent of the outbreak at hand. He cowers amongst the embassy staff praying for extraction from the hands of death, fearing his part to play in the epidemic.
Follow this harrowing tale of survival, duty, love and horror as the living dead bring the world to its knees.
The first installment of an epic series, End Time starts as a slow burn that turns into a breakneck paced struggle for survival. Greene does an excellent job of depicting individual stories within the larger scope of the global epidemic. Witness the collapse of a nation and the rise of the dead. Enter the End Time.
Genre: Apocalypse, Horror, Thriller
End Time (The End Time Saga Book 1) by Daniel Greene