No Comments
$3.99 "The Eternal Messiah" by W. R. Pursche and Michael Gabriele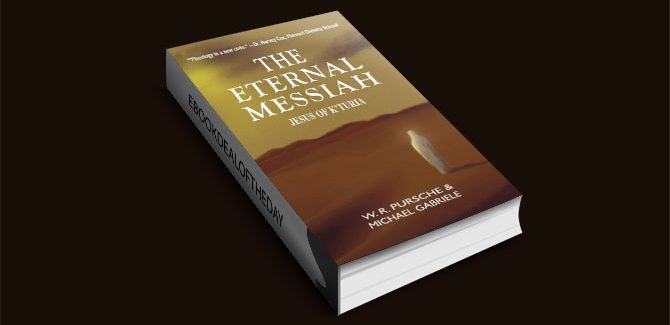 Ebook Deal of the Day: $3.99 "The Eternal Messiah: Jesus of K'Turia" by W. R. Pursche and Michael Gabriele
Treb Win has left his home and joined the military to escape the memories of the loss of his life mate. Bereft of purpose, he tries to lose himself in his work, his goal of achieving personal enlightenment now an impossible dream without the support of his mate and his people.
Win's research ship is commandeered by the military to undertake a covert mission to find a missing freighter carrying illicit weapons. Along on the mission are two troublesome humans: a shady government official who isn't telling Win the whole story and a scientist who has developed a controversial theory about the connection between religion and cultural advancement.
Kalinda Prentiss is a renowned expert in her field of cultural anthropology. In her work with indigenous cultures she begins to see amazing similarities in their path to advancement — similarities based on their acceptance of a religious messiah. Yet when she documents her work and presents it to the scientific community, she is ridiculed for her theory and is demoted from her prestigious position and sent to work on Win's obscure ship.
When the search for the weapons leads to K'Turia, they witness something extraordinary: the appearance of a religious preacher named Jesus. He brings a compelling message of faith and sacrifice, encouraging the people to break free from their meaningless lives. His gospel threatens both the local religious leaders and an oppressive occupying power.
Prentiss believes she has the ultimate proof of her theory and Win is curiously drawn to this preacher, kindling a spark in his long lost sense of purpose as he listens to Jesus' gospel. Drawn into an unfolding drama that is eerily familiar to what happened on Earth, they are forced to make a desperate choice: save the galaxy or save Jesus.
* * *
"Reading The Eternal Messiah has rekindled a long term interest in science fiction – a genre with no boundaries, which is brilliantly exploited by the authors as we are drawn into a complex world of intergalactic struggles and intrigue. The fascinating idea
that Jesus Christ enters into the mix and has been returning to challenge evolution and to find out if the eternal truth has at last been understood, adds a profound philosophic dimension to the story. And what is the eternal truth? The only way to find out is
to read this enthralling book."
—Robert Feather, author of The Secret Initiation of Jesus at Qumran
"An intriguing blend of theology and science fiction, highly recommended."
— Midwest Book Review
"This thought-provoking, suspense-filled work of fiction is an intergalactic quest for the Truth. . . this book reminded me a bit of The Shack in how it inspired me to reevaluate what I believe, how I have come to those beliefs, and which ones I need to let go of in order to submit to love, forgiveness, and sacrifice that is indeed eternal."
—Trisha Niermeyer Potter, Prints of Grace
"…a page turner for anyone who enjoys a story that will stay with you long
after you finish the last page. Highly recommended!"
—WV Stitcher blog review
"Theology in a new code."
—Dr. Harvey Cox, Harvard Divinity School and author of The Secular City
"…the authors skillfully wove the themes of the book to highlight the question of whether society created a messiah or whether a Messiah came to a society and even to specific individuals…a fascinating story…"
—Sojourner's Journey blog review