No Comments
Crime Spree by James Raven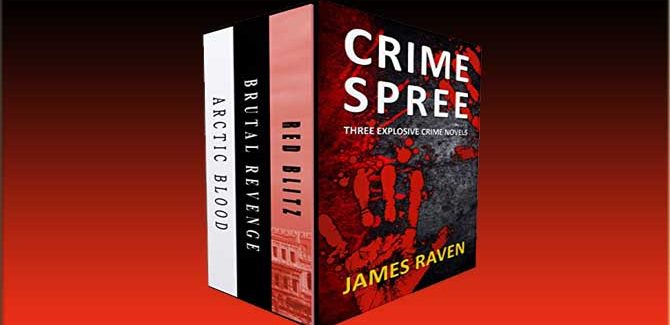 Realtime Pricing:Processing (1)
CRIME SPREE BOX SET:
Three stand-alone, full-length thrillers from the bestselling author of MALICIOUS and STARK WARNING.
*Red Blitz
*Brutal Revenge
*Arctic Blood
A deadly dose of terrorism, murder and non–stop action.
BOOK ONE – RED BLITZ
The world's most beautiful city is about to be destroyed. Dozens of bombs have been hidden throughout Venice by a terrorist who is found dead. As the bombs start to explode, and thousands flee to the mainland, the police launch a desperate bid to save the city – and solve the mystery of what lies behind the attack.
BOOK TWO – BRUTAL REVENGE
The inhabitants of a tiny island off the coast of Scotland harbour a guilty secret – they've recovered a hoard of treasure from an ancient wreck. But four unscrupulous villains from the mainland find out about the treasure and set out to steal it one stormy night. What follows is a nightmare of brutality and revenge.
BOOK THREE – ARCTIC BLOOD
What seems like a routine assignment for charter pilot John Preston turns out to be anything but. He's suddenly drawn into a nightmare world of intrigue and violence. It begins in a remote corner of Greenland's treacherous east coast when a man's mutilated body is found among the ice floes. From then on the action is fast and furious and Preston becomes the desperate quarry of a band of ruthless killers.
Genre: Contemporary Fiction