No Comments
Three Free YA Paranormal iBooks for iPad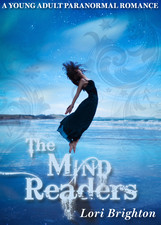 The Mind Readers, Book 1 by Lori Brighton
available free (confirm price before downloading at iBooks
Description
Cameron Winters is a freak. No one but her family knows that Cameron can read minds. When Lewis arrives, he tempts her with possibilities of freedom. Determined to embrace her hidden talents, Cameron heads to a place where she meets other Mind Readers. But when the Mind Readers realize the extent of Cameron's abilities, they want to use her powers for their own needs.
"Nightmarchers" by Courtney Nuckles & Rebecca Gober
available free (confirm price before downloading) at iBooks
Description
"NEVER, EVER lock eyes with a Night Marcher!" Everyone in Hawaii has heard this warning, except for seventeen-year-old Emma Townsend that is. For most Hawaiians know that looking into the eyes of Night Marcher can strike a curse that will end in death or eternal servitude. Even though her father, who is a paranormal investigator, solely raised Emma, she has little experience in the realm of the supernatural. When she is forced to move with her father to Hawaii, only months before her graduation, Emma finds that her world as she knows it, is shaken when she starts seeing the unexplainable: fire balls in the distance, beating drums in the middle of nowhere and strangers who vanish into thin air. Then one day when she has a run in with a procession of Night Marchers, ancient Hawaiian spirits wandering from their burial grounds to their locations of battles past, Emma has no choice but to believe that the unbelievable does exist. Now Emma must go on the run with the help of a mysterious stranger, as they seek out how to free Emma from the curse of a Night Marcher, who will stop at nothing to get her soul.
"Wayward" by Ashley Girardi
available free (confirm price before downloading) at iBooks
Description
Born without magic, seventeen-year-old Helena "Hex" Wayward is an embarrassment to her power-hungry relatives. As the weakest member of the world's most deadly magical family, Hex learns early how to avoid confrontation. There's no defending herself against an errant curse or the pit-demon that her cousins like to summon during family reunions. When the dark magic inside of her — magic that she never dreamt even existed — erupts in a violent display, it kills a member of a rival family. Now, Hex's family hopes to use her magic for their own sinister purposes and their enemies just want her dead. Abandoning her magic will leave Hex defenseless but she's seen how quickly power corrupts even the best intentions. She has to make a choice: Save her life or save her soul.