No Comments
Three Free Suspense, Thrillers Kindle Books!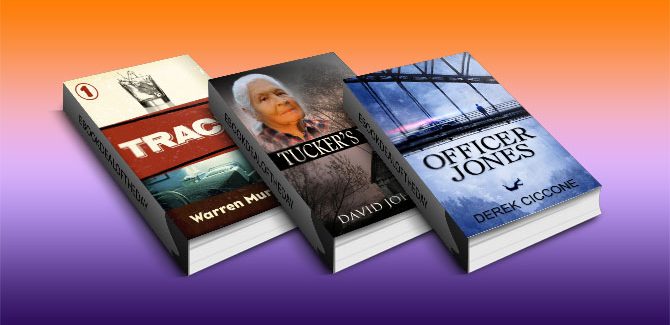 "Trace (Trace #1)" by Warren Murphy
Devlin Tracy is a very good insurance investigator in a profession that rewards success. He lives in a luxury condo on the Las Vegas Strip and only works when he feels like it. He also drinks vodka by the pint, cracks wise to damn-near everyone, and has what can charitably be described as a complicated relationship with his girlfriend. None of that matters to the Garrison Fidelity Insurance Company. They're interested in results. Which is why they keep Trace on retainer.
Problem: A patient at a private clinic died, shortly after making his doctor the beneficiary of his insurance policy. Suspicious. Now a wealthy friend of the Garrison Fidelity is a patient at the same private clinic, and he isn't doing well. Troubling. Solution: Send Trace, who has a natural way of shaking things up. On the surface everyone's friendly and nothing points to murder, fraud or larceny. A late-night beatdown from two masked thugs sends a very different message, however, and tells Trace that he's onto something. If only he could figure out what he's onto.
Trace is the first in a series of suspense novels featuring the charmingly hardboiled insurance investigator.
"Tucker's Way" by David Johnson
Tucker's childhood was steeped in abuse and poverty, therefore she trusts no one and lives as isolated a life as she can. But Tucker needs help or she risks losing her grandchildren she is raising.
Into Tucker's private life steps Ella, whose childhood was a life of privilege but her marriage was a private life of abuse. As Tucker's new neighbor, Ella's openness about her life crashes headlong into Tucker's closed-door attitude and Tucker is forced to rethink her view of the world.
It is Tucker's four-year-old, mute granddaughter, April, that becomes the fulcrum that pries open the vault door on Tucker's heart and allows Ella to step inside.
Tucker's Way, a tale set in the rural south, is an inspirational story about overcoming incredible odds.
"Officer Jones" by Derek Ciccone
As the fearless international correspondent for GNZ News, JP Warner has always risked his life to beat the competition to the story, and received all the notoriety and riches that comes with it. But an event makes him realize that there's no end to the chase, and the further he runs, the more he loses himself. So he decides to leave the jaded industry, and returns to the idyllic Connecticut town he grew up in, hoping to rediscover the person he once was.
But any chance to find peace shatters when he looks into the eyes of local policeman Kyle Jones. JP sees the same look he's seen in the many fanatics he's covered over the years. And soon finds himself on a collision course with Officer Jones, while also battling the forces within himself, as he races to cover the biggest story of his life.