No Comments
Three Free Contemporary ibooks for you!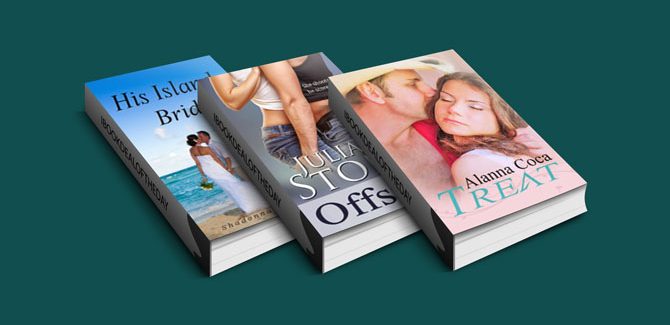 Three Free Contemporary ibooks for you!
Free! "Treat" by Alanna Coca
Andi Hampton and her two friends treat themselves to a getaway at a Wyoming guest ranch. It would be their last summer together before college, and Andi's well planned life begins. When she meets ranch wrangler Jake Walker, she begins to wonder if she can pencil in a little bit of love.
A short prequel to Alanna's book Retreat Also includes the first chapter of Retreat at the end of the file.
Free! "Offside" by Juliana Stone
When hockey phenom Billie-Jo Barker returns home and decides to play in the local Friday night hockey league, all hell breaks loose. Not because Billie's talent is in question, but because Billie is a woman. And though these are modern times, some of the local guys still have a problem letting a girl into their 'men's club.'
Soon, Billie is at the center of a small town battle of the sexes, with everyone choosing sides. Her sisters. The townsfolk. Her friends. And yet, the only person whose opinion she cares about doesn't seem to care much at all. Logan Forest, the man who broke her heart when she was eighteen and the man she now shares the bench with every Friday night.
She's got a lot to prove and though Billie Jo Barker scores on the ice, will this girl ever score with the man of her dreams?
Free! "His Island Bride" by Shadonna Richards
She wasn't looking for love, but love found her…while vacationing on the sunny island of Jamaica. With mixed emotions, Jessica Mills can't wait to escape to the Caribbean—away from an arranged marriage agreement to honor her new found heritage. She is to meet her potential groom-to-be in two weeks. She finally books her long-awaited vacation to a resort in Jamaica only to be double booked in the same suite as a gorgeous, irresistible stranger—who happens to get under her skin.Sexy, undercover billionaire, James Carrington has more on his mind than relationships.
On the verge of making an important business decision that can affect his entire future and everything he's worked for, he goes to Jamaica to think and indulge in recreational activities. He did not count on having a beautiful brunette in his suite—a pleasant but ill-timed distraction. There's no mistaking the sparks that fly between Jessica and James at one of the island's hottest resorts. But Jessica is betrothed to someone else…which direction will her heart follow?