No Comments
Super Summer Set of Historical Shorts by Catherine Kean + more!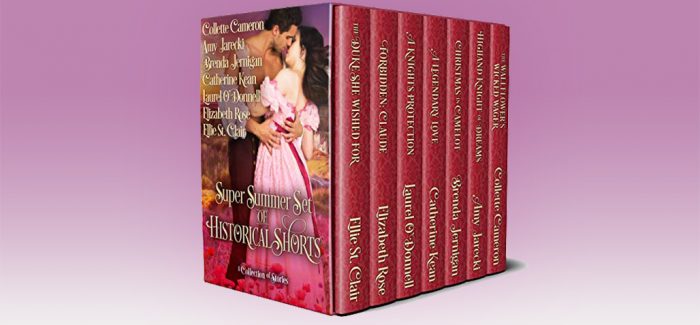 Realtime Price – $0.99
This summer, sit back and let some of your favorite USA Today and Bestselling historical romance authors take you away to a time of adventure and passion. Take it on vacation or just escape at home. This set includes –
The Wallflower's Wicked Wager by COLLETTE CAMERON –
He loved her beyond anything and everything—precisely why he must never marry her.
Highland Knight of Dreams by AMY JARECKI –
Two generations after the massacre of Dunoon, will the power of a single rose be enough to break the hatred of a clan feud that has gone too far? When Alice Lamont crosses paths with the notorious Quinn Campbell, she readies for battle. But as tensions rise, passion ignites…until the enemies must choose—love or war.
Christmas in Camelot by BRENDA JERNIGAN –
The Greatest Gifts . . . Are always unexpected . . .
There was a king – King Arthur of Camelot
There was a knight – Sir Nicholas the Dragon
There was a wager that each swore he would win . . .
A Legendary Love by CATHERINE KEAN –
Tavis de Rowenne doesn't believe in curses; however, when a freak accident almost causes Lady Helena Marlowe, his intended, to drown, he wonders if his ancient cloak pin might be damned. Years later, when Helena's father falls ill, she has no choice but to trust Tavis–and this time, he's determined to win her love.
A Knight's Protection by LAUREL O'DONNELL –
A healer and outcast, Lia discovers a dying Templar knight who entrusts her with an important treasure and elicits her promise to protect it. Kade de Claremont returns home upon news of his mother's death only to find his father is searching for a mythical treasure. Lia and Kade must join together to keep the treasure from his father, but secrets and trust come between them to sabotage their growing attraction.
Forbidden: Claude by ELIZABETH ROSE –
Claude Montague has never forgotten his first love. But can he push aside these feelings for Lady Rose before his chance for true love with Lady Evelina Du Pont passes him by? The heartbroken knight. The runaway bride. A love between them that is forbidden!
The Duke She Wished For by ELLIE ST. CLAIR –
She's a milliner. He's a duke. From two entirely different worlds, can they ever be united?
Genre: Historical Romance
Super Summer Set of Historical Shorts by Catherine Kean, Laurel O'Donnell, Collette Cameron, Amy Jarecki, Brenda Jernigan, Elizabeth Rose, Ellie St. Claire