No Comments
$0.99 "Celebrate! (Boxed Set)" by Linda Barrett, Barbara McMahon…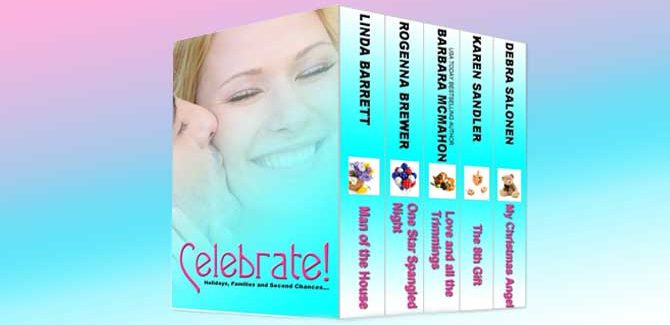 Ebook Deal of the Day:

$0.99 "Celebrate! (Boxed Set)" by Linda Barrett, Barbara McMahon, Deb Salonen, Karen Sandler, Rogenna Brewer
Genre: Romance
CELEBRATE! Five heartwarming stories celebrating the sweet gift of romance on Father's Day, the Fourth of July, Thanksgiving, Hanukkah and Christmas.
Man of the House by Linda Barrett
Bobby's been the man of the house since his father died, but now his mom is spending time with Steve. Steve makes his mom happy, but no one can take Bobby's dad's place. Can Bobby have a change of heart and accept a new man of the house?
One Star Spangled Night by Rogenna Brewer
Navy Chaplain Lieutenant Lindsey Alexander is not as naive as world-weary Aircraft Carrier Captain Doug Reese believes. When the Top Gun is ordered into counseling, the junior officer is the only thing standing between him and his losing command of his ship.
Love With All the Trimmings by Barbara McMahon
An unexpected reunion at Thanksgiving changes a growing relationship when an old flame shows up just when Juliana has hopes for a future with Matt.
The Eighth Gift by Karen Sandler
When widow Sarah Meyer's house is broken into and her son's Hanukkah gifts stolen, her late husband's best friend comes to her rescue. But as the friendship between Sarah and Jake Goldman blossoms into something more, it takes a Hanukkah miracle to lead to a new and lasting love.
My Christmas Angel by Debra Salonen
"Little Dickie Daniels is a Christmas angel." So, 8-year old Abigail believes…until she meets the scruffy child her mother brings home on Christmas Eve. But looks can be deceiving Abigail learns, and some encounters leave an indelible mark. Thirty years later, Abby–author of the children's book "My Christmas Angel"–receives a call that proves holiday miracles really do happen.