No Comments
Swap Meets (Volume 2): A 13 Book Excite Spice Hotwife MEGA Bundle (Excite Spice Boxed Sets)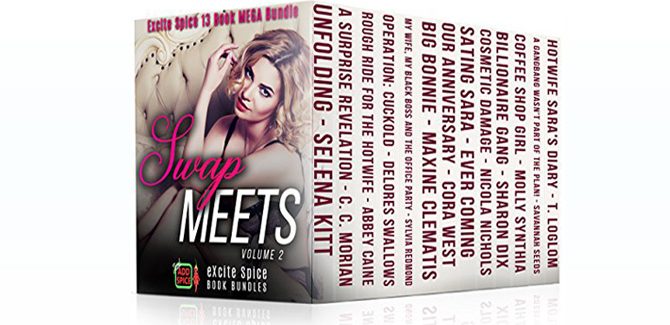 Realtime Pricing:Processing (1)

Do you like HOT, FREE books? Get 5 FREE reads just for joining EXCITE SPICE. Check out the "From the Author" section below for details!
This 13 BOOK Excite Spice Hotwife MEGA Bundle brings you even more sexy, hotwife action straight to your ereader. There's something for everyone here, from polyamory to cucks who can't help but watch.
Thirteen of the genre's hottest authors bring you couples who love to share, where hot, loving wives give their voyeur husbands something sexy to watch. And sometimes they even let them join in.
These tales will take you on a hot, tumultuous journey into a world where husbands and wives have a different view of marriage—and pleasure—than most. These stories bring the ultimate hotwife fantasy to life!
Don't miss your opportunity to grab this limited-time bundle, bursting at the seams with hotwives guaranteed to bring the heat!
This EXCITE SPICE bundle is on sale for a LIMITED TIME.
FEATURING
Selena Kitt ~ Unfolding
C. C. Morian ~ A Surprise Revelation
Abbey Caine ~ Rough Ride for the Hotwife
Delores Swallows ~ Operation: Cuckold
Sylvia Redmond ~ My Wife, My Black Boss and the Office Party
Maxine Clematis ~ Big Bonnie
Cora West ~ Our Anniversary
Ever Coming ~ Sating Sara
Nicola Nichols ~ Cosmetic Damage
Sharon Dix ~ Billionaire Gang: Mastering the Hotwife MILF
Molly Synthia ~ Coffee Shop Girl
Savannah Seeds ~ A Gangbang Wasn't Part of the Plan!
T. Logtlorn ~ Hotwife Sara's Diary
Genre: Romance