No Comments
Clan Bear: 10 Steamy Bear Shifter Fated Mates Romances by Emma Alisyn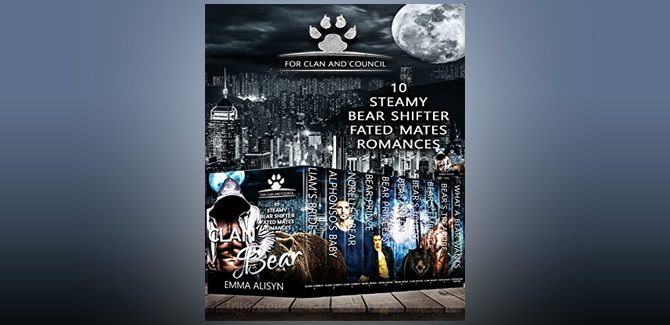 Realtime Pricing:Processing (1)

10 Steamy Bear Shifter Fated Mates Romances.
Never read an Emma Alisyn paranormal romance? Try Clan Bear, a collection of her ten bestselling paranormal romances. For readers who love alpha males, bbw curvy heroines with major personality, lots of emotional tension and plenty of steamy, sensual love scenes. NO fade to black here!
Includes:
1. LIAM'S BRIDE: Clan Conroy Brides #1 Secrets. Desire. Surprise pregnancy. A BBW romance.
2. ALPHONSO'S BABY: Clan Conroy Brides #2 Bear shifter Alphonso shunned his curvy mate Tamar to protect her from his dark past… but when he discovers he is the father of her baby, will he take the risk in order to raise their child? A BWWM BBW romance.
3. NORELLE'S BEAR: Clan Conroy Brides #3 A rebel Alpha billionaire. A beautiful, exiled Bear. A chance at love… but only if they break the Law.
4. BEAR PRINCE: Royal Bears #1 A curvy, small town ballerina. A Bear Prince yearning for his mate. An archaic law forbidding them to wed… A BWWM BBW romance.
5. BEAR PRINCESS: Royal Bears #2 A Princess who sacrifices love for duty… a King planning to seize his mate…
6. BEAR QUEEN: Royal Bears #3 (Includes bonus short HEA story, BEAR QUEEN'S BABY) The Bear Queen has a fence around her heart. The Alpha Clan Chief has an ax to chop it down. Their enemy lurks, waiting for an opportunity to strike…
7. ONE BEARRY NIGHT: A Clan Conroy Novella When Rebekah meets her future mate by chance and falls in love, she must make the agonizing choice to leave him — not knowing that he is the one destined for her.
8. BEAR IN FURRY ARMOR: A Clan Conroy Novella A baker yearning for her Bear in furry armor. A male ready to Claim his mate. The witch standing between their mate bond.
9. WHAT A BEAR WANTS: A standalone stepbro shifter romance set in the same world. Curvy human Tamsin loves a forbidden male, the son of the Clan Alpha. She knows she can't have him- wouldn't their union tear the family apart?
10. STONE LOVER: Either she cures the Prince, or she is sold in marriage to a warrior she doesn't love….
Genre: Paranormal Romance