No Comments
Paws and Claws (Volume 3): 14 Book Shifter Romance Bundle by Selena Kitt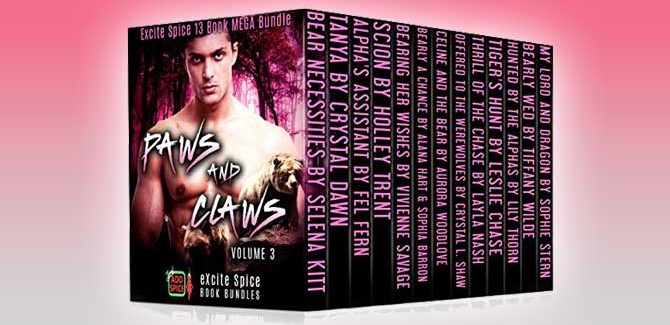 Realtime Pricing:Processing (1)

Do you like HOT, FREE books? Get 5 FREE reads just for joining EXCITE SPICE. Check out the "From the Author" section below for details!
Can't get enough of those sexy shifter beasts? Sink your teeth into this 14 BOOK Excite Spice MEGA Bundle with more hot, alpha shifters than you could imagine! Over 365,000 words of provocative prose with powerful, possessive alphas looking for their fated mates.
Fourteen of the genre's hottest authors will take you into the wild, where fiery passion rules and raw need dominates. These lions, tigers and bears are guaranteed to bring out the animal in you.
So let yourself howl at the moon – and let loose the beast!
K!NDLE UNL!MITED MEMBERS – DOWNLOAD THIS BOOK F*R*E*E!
FEATURING
Bear Necessities – Selena Kitt
Tanya – Crystal Dawn
Alpha's Assistant – Fel Fern
Scion – Holley Trent
Bearing Her Wishes – Vivienne Savage
Bearly a Chance – Alana Hart & Sophia Barron
Celine and the Bear – Aurora Woodlove
Offered to the Werewolves – Crystal L. Shaw
Thrill of the Chase – Layla Nash
Tiger's Hunt – Leslie Chase
Hunted by the Alphas – Lily Thorn
Striped and Bear – Mercy May
Bearly Wed – Tiffany Wilde
My Lord and Dragon – Sophie Stern
Genre: Anthologies, Paranormal Romance