No Comments
Once Upon a Christmas Kiss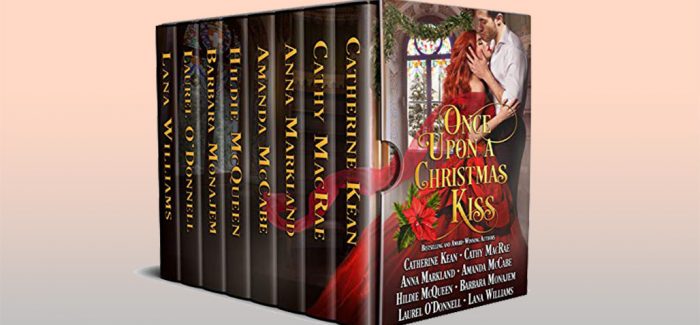 Realtime Price – $0.99
Step away from the Christmas rush this season and fall in love again with this amazing set of Historical Christmas tales by USA Today and bestselling authors! This set includes –
One Knight Under the Mistletoe by CATHERINE KEAN –
Kissing Lord Renfred de Vornay under the mistletoe was the last thing Lady Liliana Thornleigh expected days before Christmas. When she learns Ren's dangerous secrets, will her hatred of him intensify, or will she accept his love?
Mhàiri's Yuletide Wish by CATHY MACRAE –
What Mhàiri and Michaell receive this Yuletide season could prove more than they had ever dreamed.
Unkissable Knight by ANNA MARKLAND –
Dervenn de Roure is a hero of the Battle of Hastings, the same conflict that left Victorine de Toeni orphaned and facing poverty. She must marry to survive. Dervenn's scarred face bears testimony to his sacrifice, but the haughty Victorine cannot overlook the fact he is a Breton, not a Norman. It might take the scheming of an unlikely matchmaker like William the Conqueror to make her see Dervenn is the man she needs.
A Partridge in a Pear Tree by AMANDA MCCABE –
Spend the holidays in Regency England! Seeking an heir to her fortune, a widow challenges her family to a wild holiday scavenger hunt in the novella "A Partridge in a Pear Tree"–and two people find a lasting love seeking the Twelve Days of Christmas…
"Solid characters, a family secret or two, and some clever writing make this the best story in the collection" – All About Romance
National Reader's Choice Award Finalist–Best Novella
Christina, A Bride for Christmas by HILDIE MCQUEEN –
After being dispatched to Blanchard Creek, Wyoming by her mother as a mail order bride, Christina Mills tumbles from one mishap to another. A story of hurt, scars and the healing power of love.
Yuletide Nights, a Regency Novella Duet by BARBARA MONAJEM –
Book One, The Reluctant Seductress: Forced to work as a spy due to her mysterious seductive powers, Lettice Raleigh emerges from the war with her virginity intact and her reputation in tatters. She hasn't a hope of marrying—but she doesn't reckon with the very proper Lord Hadrian Oakenhurst, who has one besetting sin: curiosity.
Book Two, Love at First Dance: Sir Colwyn North's uncanny skill as a lover made him an excellent spy—but it also gave him the worst of reputations. His only hope of winning the hand of the very proper Lady Jane Dew is to trick her into marriage. By way of seduction. While in disguise.
Mistletoe Magic by LAUREL O'DONNELL –
A confident knight arrives home to find his childhood friend grown into much more then he remembered. The lady of the castle keeps a dangerous secret that threatens all she holds dear. Will Mistletoe Magic save them?
Dancing Under the Mistletoe by LANA WILLIAMS –
A woman running from her past. A man unwilling to face the future. A stolen moment under the kissing bough. Can one kiss and the magic of Christmas unite two lonely souls?
Genre: Historical Romance
Once Upon a Christmas Kiss by Laurel O'Donnell, Catherine Kean, Cathy MacRae, Anna Markland, Amanda McCabe, Hildie McQueen, Barbara Monajem, Lana Williams