No Comments
Sunrise For Three: A Military Fiction Romance (Sexy Siesta Series Book 3) by Talina Perkins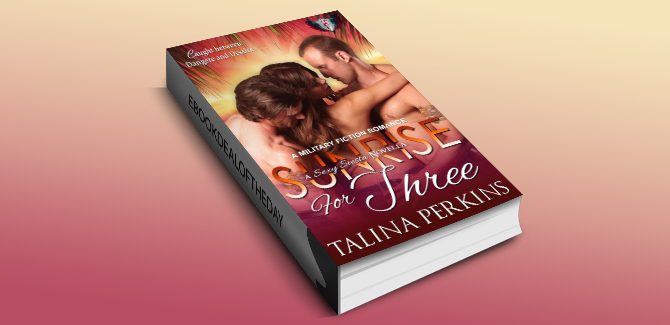 Realtime Pricing: Amzn: $2.99

Sunrise for Three: A military fiction romance with. . .

Two stalwart former Recon Marines…
Marc Dangere and Colt Dessire, forced to retire from injuries sustained from a roadside bombing, decide there's only one thing left for two elite former Recon Marines—serve and protect through their own security company, Re-Con.
One sexy, heart-melting Latina with danger hot on her trail…
Mia Vega is fearless when it comes to standing her ground. Shedding the shackles of a tragic childhood, Mia accepts the first stable job opportunity that comes along in hopes of building a strong future for herself. With every passing day Mia finds it harder to resist her desire for both her bosses— two of the sexiest Recon Marines she'd ever laid eyes on. Determined to reach out and take what she wants, Mia sets an erotic plan of seduction in motion that will either get her fired or land her right where she wants to be—caught between dangere and dessire.
One deserted beach and only one erotic night to claim her as theirs.
Marc and Colt have had their sights set on their new secretary, beautiful Mia Vega. They've kept their distance, waiting for the right time to share their feelings. But all bets are off when a dangerous predator begins striking out against Mia. To protect her, Marc and Colt take her under their protection, whisking her away to their safe haven until they can figure out who's behind the attempt on her life. Once alone with her, neither man can contain the burning desire to claim her.
In this military fiction romance can Marc and Colt keep Mia safe while exploring their passions? Or will fate deprive them of a happiness all three have longed for their whole lives?
AUTHOR NOTE: All books in the Sexy Siesta military fiction romance series can easily be read as individual titles.

Genre: Military Romance