No Comments
Midlife Dragon's Mate by Brittany White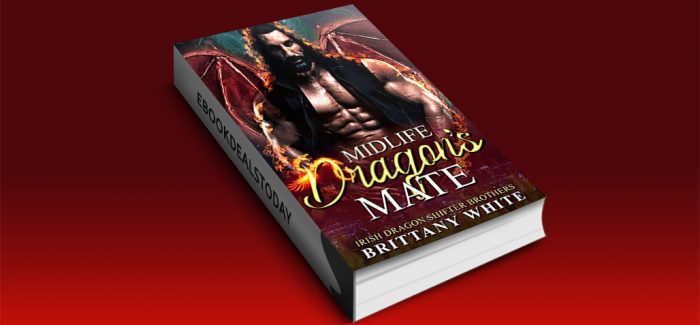 Realtime Price – $2.99
A dragon shifter is forced to reveal his secret identity in order to save a human woman's life.
The Human Mate
On the evening of our twentieth wedding anniversary, my husband left me.
With no explanation, he walked out the door.
The next day, my only child moved away to start college
At thirty-eight years old, I had nothing left.
I'd lived my life for my son, and my husband.
So I had to start over.
After weeks of therapy, I determined I was better off alone.
I vowed to never date again
To escape my dull life, I took off on an adventure.
I taught myself to hike, camp, and take photos of nature.
Then I had a run in with a grizzly bear.
My life flashed before my eyes as I screamed — I wasn't ready to die.
But a hunky man saved me.
And he's so much more than a man.
He's an amazing dragon shifter who's lived a very interesting life.
He is the leader of a fierce motorcycle club, and he shares his world with me.
I don't want to commit — not to anyone.
But how can I possibly resist this sexy shifter?
The Midlife MC Dragon Shifter
I come from an ancient line of dragons.
We have been granted unnatural long lives, but I'm still single.
And for good reason. My dragon shifter father was an alcoholic
He was a miserable monster who beat my human mother.
When I was finally old enough to protect her, she died.
I learned a lesson — marriage isn't worth the risk.
Especially not between a human and a shifter.
So I left the human world behind for good.
I started a motorcycle club for shifters who needed a sanctuary.
More joined our club, from Fae to vampires to witches and wizards.
Our band of misfits travels the country, living a nomadic lifestyle.
During one of my rides, I heard a woman scream.
She was about to be killed by a bear.
I transformed, right in front of her, and saved her from the grizzly.
Now this beautiful human female knows my secret.
So I let her into my world.
She goes on the road with my club, riding on the back of my motorcycle.
But our relationship can't last.
Because I can't escape who I am — I can never be human for her.
Can a dragon shifter who's committed to a bachelor's life finally admit that he's found his one true mate — even if she's a human?
Genre: Paranormal Romance
Midlife Dragon's Mate (Irish Dragon Shifter Brothers, Book 12) by Brittany White