No Comments
Knight of My Dreams by Catherine Kean, Kathryn Le Veque, Amy Jarecki, Emma Prince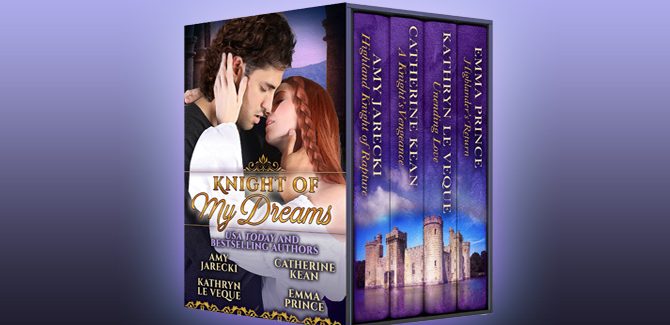 Realtime Pricing:ERR

Three full-length novels and one novella:
HIGHLAND KNIGHT OF RAPTURE by Amy Jarecki: When Sir Eoin MacGregor witnesses Lady Helen's dishonor, he's infused with rage. Worse, his hands are tied by honor and duty. Will the gallant knight find the strength to mask his deepest desires and save the woman he's always loved?
A KNIGHT'S VENGEANCE by Catherine Kean: When Lady Elizabeth Brackendale is kidnapped and held for ransom by rogue knight Geoffrey de Lanceau, she vows to escape and thwart his plans to exact vengeance upon her father. Yet the more she learns about Geoffrey, the tormented warrior haunted by father's killing years ago, the more she yearns for him. Only by Elizabeth and Geoffrey championing their forbidden love can they uncover the deadly secrets that could save or destroy all.
UNENDING LOVE by Kathryn Le Veque: A serious young knight and the lady who has loved him her entire life. When he finally returns her feelings, tragedy threatens to keep them apart forever.
HIGHLANDER'S RETURN (a Novella) by Emma Prince: Burke Sinclair and Meredith Sutherland wanted nothing more than to be married, but ancient clan hostilities tear them apart. Ten long years stretch between them, but when Meredith's cruel husband dies and Burke reappears in her life, the two may get a second chance at first love—if old blood feuds don't rip them apart once and for all.
Genre: Medieval, Historical Romance


Amazon