No Comments
Hot Summer Knights by Catherine Kean, Laurel O'Donnell, Kris Kennedy, Emma Prince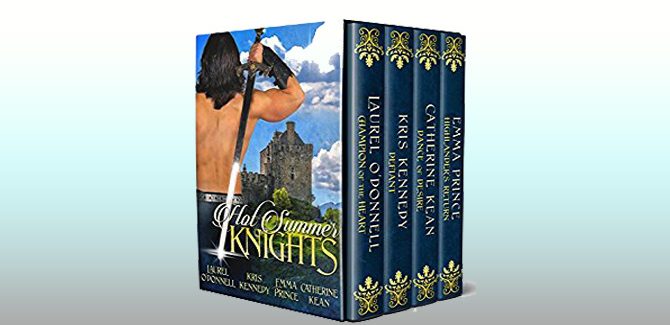 Realtime Pricing:N/A

This set features never before published and award-winning BONUS MATERIAL plus these four amazing medieval stories by USA Today and award-winning authors!

CHAMPION OF THE HEART by Laurel O'Donnell –
He is an outcast THIEF known as the Black Fox, vowing revenge against those who unjustly stripped his father of his knighthood and lands. She is the PROTECTOR of the orphaned children of her village, promising to bring the Black Fox to justice for his dark deeds. Can Fox uncover the sinister secrets from their past and become the champion of his lady's heart?
DEFIANT by Kris Kennedy –
Jamie Lost is King John's most renowned lieutenant, an audacious knight sent to kidnap a rebel troublemaker before enemy forces close in. The mission is simple–until he comes up against a beautiful woman who first threatens his mission, then his cold, black heart. Epic road romance by USA Today bestselling author Kris Kennedy featuring a brooding knight with a shattered heart & the beautiful waif who thwarts him, charms him…and believes he's worth saving.
DANCE OF DESIRE by Catherine Kean –
Disguised as a veiled courtesan, Lady Rexana Villeaux dances for the High Sheriff of Warringham–and he is tempted. Becoming Fane's wife may be the only way to save her brother; yet as she learns her husband's secrets, she finds it harder and harder not to fall in love.
HIGHLANDER'S RETURN by Emma Prince –
Burke Sinclair and Meredith Sutherland wanted nothing more than to wed, but ancient clan hostilities force Meredith into an unwanted marriage. Ten long, lonely years later, the two may get a second chance at first love—if old blood feuds don't rip them apart once and for all.
Genre: Historical Romance