No Comments
Regency Masquerades by Various Authors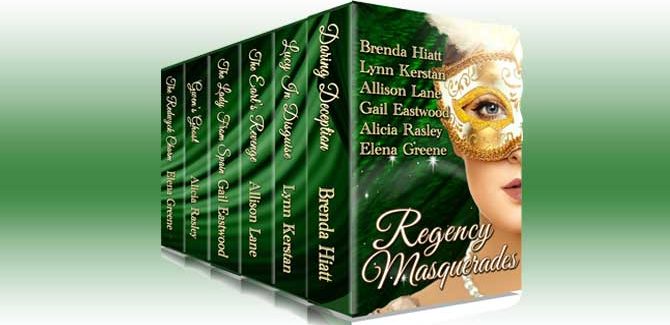 Realtime Pricing:Processing (1)
Special 99¢ pre-order price!
Six beloved bestselling and award-winning Regency authors bring you six full-length novels of disguise, deception and secret identities. From sweet to subtly sensual, these traditional Regency Romances demonstrate that true love can see through even the most elaborate mask!
This special, limited-edition set includes:
Daring Deception, by NYT and USA Today bestselling author Brenda Hiatt
When her brother promises her in marriage to pay a gaming debt, Miss Chesterton dons a disguise to prove Lord Seabrooke a fortune hunter. But even as she gathers evidence, she finds herself losing her heart to the handsome Earl.
Lucy in Disguise, by RITA® Award-winning author Lynn Kerstan
A charming aristocrat in trouble is rescued by a young woman disguised as a Lancashire Witch. Love comes swiftly, but she'll only agree to wed if they protect her friend, a fearful heiress, from a greedy and dangerous family.
The Earl's Revenge, by award-winning author Allison Lane
A battle of wits unmasks the secret lives of the Earl of Bridgeport and his former fiancée Elaine Thompson. Only love might prevent ruination.
The Lady from Spain, by award-winning author Gail Eastwood
A young woman posing as a Spanish widow returns to England after Napoleon's war, set on a dangerous quest. Can the handsome lord who must unmask her also turn her heart toward love?
Gwen's Ghost, by RITA® Award-winning authors Alicia Rasley and Lynn Kerstan
An unredeemed rake must mask his true self so that he can undo the damage he caused with his life–and his death.
The Redwyck Charm, by multiple award-winning author Elena Greene
Heiress Juliana Hutton masquerades as an opera dancer to escape an arranged marriage to the Earl of Amberley, but fate has different plans…
Genre: Historical Romance, Regency Romance, Traditional Regency Romance