No Comments
Medieval Lovers by Laurel O'Donnell, Catherine Kean, Eliza Knight, Denise Domning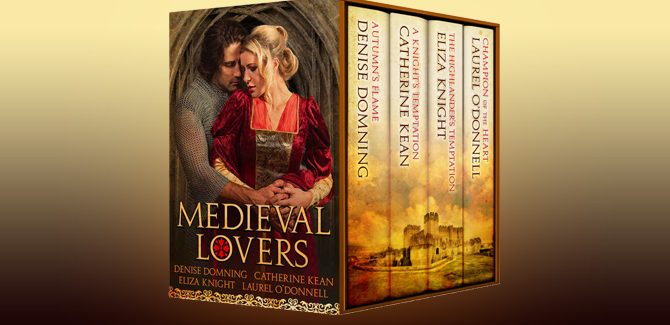 Realtime Pricing:N/A

CHAMPION OF THE HEART: He is an outcast THIEF known as the Black Fox, vowing revenge against those who unjustly stripped his father of his knighthood and lands. She is the PROTECTOR of the orphaned children of her village, promising to bring the Black Fox to justice for his dark deeds. Can Fox uncover the sinister secrets from their past and become the champion of his lady's heart?
A KNIGHT'S TEMPTATION: A LADY arranges a clandestine meeting to return a stolen pendant. A LORD, determined to attain knighthood, senses the lady keeps valuable secrets and takes her captive. Will their past enmity stand in the way of duty and true love?
THE HIGHLANDER'S TEMPTATION: Laird Jamie Montgomery is a warrior sent to the Highlands on the orders of William Wallace. Temptation in the form of an alluring lass, could be his undoing. Lady Lorna Sutherland can't resist Jamie's charms. Though she's been forbidden, she breaks every rule for the pleasure of his intoxicating embrace.
AUTUMN'S FLAME: A HEADSTRONG WOMAN, A SCARRED AND SECRETIVE MAN TIED TO EACH OTHER BY HER UNBORN CHILD
The newly widowed Elyssa of Freyne vows that no man will ever again control her life…that is, as long as no man discovers she's pregnant. Geoffrey FitzHenry curses the law that requires him to take the pregnant widow into his custody. Almost from the moment Elyssa arrives, the coppery-haired firebrand begins challenging the pretense the protects his daughter's life.
Genre: Historical Romance, Medieval Romance