No Comments
Lairds and Lords: Medieval Scots and Regency Rakes Box Set by Julie Johnstone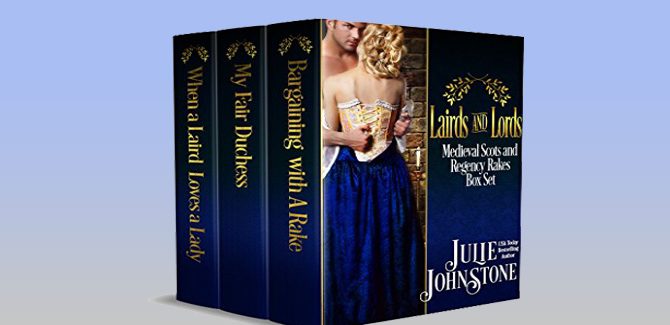 Realtime Pricing:N/A

Bargaining With a Rake: A Whisper of Scandal Novel, Book One
For eleven years, Gillian Rutherford has dreamed of escaping her family's dark secret and living a normal life. Now, faced with an unwelcome marriage that will chain her to London and the secret slowly killing her, she's desperate to save herself and the sister she adores. Salvation comes in the form of an American shipping tycoon, and all she must do is seduce him into marrying her. But Gillian's scheme hits a snag when she makes a bargain with a notorious rake Alexander Trevelle, Lord Lionhurst. He'll help her win the hand of his American friend, if she'll assist him with exacting revenge against her unwanted fiancé. But the price of the pact may just be their hearts.
My Fair Duchess: A Once Upon a Rogue Novel, Book One
After years of playing the rogue to hide a dark family secret, the Duke of Aversley feels tainted beyond redemption and cynical beyond repair. So when he proposes a wager to transform his best friend's sister into Society's darling to save his friend, Aversley never expects his heart to be at stake. But the quirky, quick-witted lady determined to win the love of another upends Aversley's life and makes him long for the thing he fears most―love.
When a Laird Loves a Lady: Highlander Vows: Entangled Hearts, Book One
A need to belong drives her. A longing to forget compels him. Fate may send them into each other's arms, but only love can mend their hearts.
An Outlander
Marion de Lacy yearns to belong to a loving family. So when her tyrannical father announces her betrothal to an evil knight, she concocts a desperate scheme to avoid the marriage. When her plan goes terribly awry, she's captured by a Scottish barbarian who rescues her and then informs her that he's to marry her by edict of her king.
Iain MacLeod, laird of the MacLeod clan, has no desire to marry ever again. Yet to secure the freedom of his king, Iain reluctantly agrees to do so. He expects his unwanted bride to be a cold Englishwoman. Instead, he discovers a fiery, bold beauty who is fiercely loyal, protective of those she loves, and defies him at every turn, challenging his certainty that his heart is dead.
Ensnared
While Marion cannot resist the noble, brave warrior, nor suppress the hope that she has finally found where she belongs, fitting into Iain's clan is difficult and softening Iain's heart seems impossible. Though Iain willingly gives his respect to his courageous wife—her kisses and caresses even ignite his blood and demand his passion—he refuses to give up his heart. That is, until enemies near and far threaten to take Marion from him. Now the demons that haunt him can only be conquered by surrendering body and soul to Marion, if only it's not too late…
Get swept away in the first three books of three different Regency Romance and Scottish Medieval Romance series: A Whisper of Scandal Series, Once Upon a Rogue Series, and Highlander Vows: Entangled Hearts Series! These previous released, USA Today bestselling tales of rogues, wallflowers, Scots, and lasses and the healing power of love are now available in this limited edition box-set!! Get it now for .99 cents! After it releases, the collection will be available for the regular price of $5.99!
Genre: Historical Romance, Regency Romance, Medieval Romance