No Comments
Free Three Kindle Books This Friday!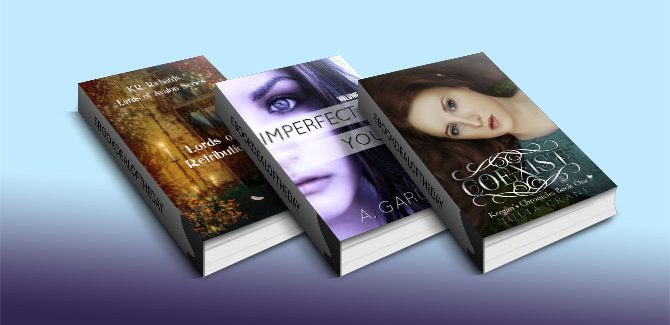 Free! "Coexist (Keegan's Chronicles #1)" by Julia Crane
Genre: YA, Fantasy, Romance
Sixteen-year-old Keegan is struggling to keep her huge secret from her friends–she's an elf, descended from a long line of elves that live in secrecy alongside humans.
In elfin society, mates are predetermined but not allowed to meet until they are eighteen. Against tradition, Keegan's brother Thaddeus told her Rourk's name because his visions warned him she'd need Rourk's protection, especially since Keegan will play a key role in the coming war between the dark and light elves.
Rourk finds himself drawn to Keegan's side every time she thinks his name. He wants to talk to her but remains in the shadows, silently guarding her every time she mentally beckons him. A twist of fate thrusts the two of them together when Rourk is forced to step up his protection and make his presence known.
An ancient prophecy deeply entwines Keegan's family and the future of their society. Somehow they must find a way to thwart fate and win the battle…without losing Keegan. With war brewing, and dark forces aligning, will Keegan and Rourk ever have the life together that they both desire?
"Imperfectly Yours (Volume One)" by A. Gardner
Genre: New Adult Romance
Love is a dangerous thing.
When eighteen-year-old Mikki finally catches the eye of her long-time high school crush, she feels like her luck is changing. But Mikki soon realizes that dating a Haskell comes with cruel consequences. Ones she never realized were possible.
"Lords of Retribution (Lords of Avalon series)" by K. R. Richards
Genre: Historical Romance
The intrigue continues in the Lords of Avalon series, Book 3, Lords of Retribution.
Trevan Chynoweth, the busy Duke of Penrose, returns to Cornwall to find his impatient "almost" fiancée, Morwenna "Wenna" Penrose, promised to another man. Trevan is not willing to give his long-time love up so easily. He is determined to win her back.
Wenna soon realizes she must decide if she will give Trevan the opportunity to prove his love for her or keep her promise to her betrothed.
Trevan's cousin, Gabriel Chynoweth, the Earl of St. Mabyn, fights his sudden, physical attraction to Wenna's sister, Senny, a woman whom he has always regarded as a dear friend and sister. His fear of wounding her feelings holds him back from taking any action until he understands just what it is he feels for her.
Senny has dreamed of marrying Gabriel for years. When she suspects Gabriel just might feel more than "brotherly" love for her, she feels she must take the chance to realize her dream. She does worry that the Earl's reputation could be tarnished by marrying her, a woman known in St. Mabyn for being away with the Piskies.
Lady Tuesday Inwood is the sister of Lord Silverley, an Avalon Society member who fell in the recent fight against the Brown Coats in London. She is determined to join the Avalon Society members in avenging her brother's death.
Jack Drayton, the Earl of Elveston, has long been attracted to Lady Tuesday. Knowing that the only way he could have her is with an offer of marriage has been enough to stop him from pursuing her. He has always considered Lady Tuesday to be trouble and finds out how much trouble she can be when Tuesday decides to sneak away from her home and follow him to Cornwall!
The Avalon Society converges upon The Duke of Penrose's home, Menadue, on Bodmin Moor, to translate the ancient scrolls found months before in a secret underground chamber in Glastonbury. While doing so, they discover yet another clue that leads to the most important relic of all. They search for clues hidden in Cornwall, while trying to protect themselves from the Brown-Coats.
The leader of the Knights of the Brown Order and his brown-coated army are determined to find the Holiest of relics first. They will stop at nothing to get to it.