No Comments
Free Wednesday Deals: Three Free Fantasy Ebooks for Kindle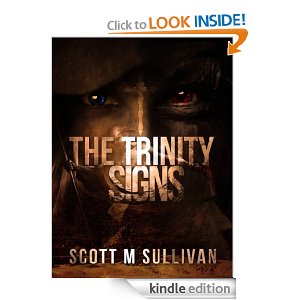 Please like and share our free daily features with your friends. New features appear daily. Get more free ebooks in the genres you love. Today's feature is three free fantasy ebooks for Kindle.
Follow us on Facebook for more daily free and bargain ebooks.
Please confirm price before downloading. Prices are subject to change without notice or updation. Prices listed below were the prices at the time of posting.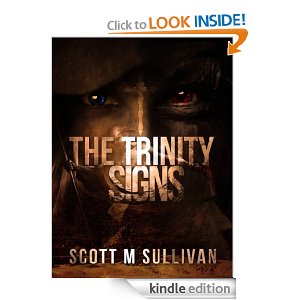 The Trinity Signs
by Scott Sullivan
It is said that the Trinity Signs point the way to humanity's continued existence…
As an ignorant world fights amongst itself, the darkest form of evil nears its rise – for its millennium-long wait is nearing the end. There are those, however, that have prevented this evil from ever spreading its black tendrils through the cracks of the world. Tobias Ramsey is the last of these men, a Guardian by blood, and a reluctant hero thrust into a task he must complete in order to save an unknowing world from a danger it could never believe to be real.
Tobias' journey to find and activate the Trinity Signs will circle the Earth and unlock the true meaning behind some of life's most perplexing mysteries. Aided by a few who protect the many, Tobias must race against time to guide the last member of a sacred Brotherhood to these fabled Trinity Signs before all is lost.
Available here (confirm still free before downloading):
****
Progeny (The Children of the White Lions)
by RT Kaelin
Nikalys and his sister Kenders have grown up living a peaceful life in the small village of Yellow Mud.  On a blistering hot day, brother and sister head to the lake for a swim. There, they witness a mysterious stranger send forth a massive, living wave that swallows their village. Believing they are the sole survivors, the two strike out on their own, hoping to discover why their home and family have been destroyed. They must make their way through a countryside where magic is outlawed while struggling with the revelation that one of them can "weave the Strands."
Through their travels, they discover that their simple life was an illusion. An epic, divine struggle has been underway for ages, and Nikalys and Kenders are at the center of it.  Ancient, powerful forces have sought them since before their birth and hunt them to this day. Some wish to eliminate the threat they pose while others want to help the pair fulfill a destiny of which they are unaware. Myths and legends come to life, whisking the pair along a grand journey neither could have imagined possible.
*This is a revised edition with extensive changes made to the book. Please read the 'A Quick Note To Readers' in the book.
Available here (confirm still free before downloading):

****
Sleeping Beauty
by John Phythyon
Beth Shipman has been in a coma for two years. Now sixteen, her friends have abandoned her, and her mother is slowly going insane. Only one person remains interested in her — Carl, the young man who fell in love with her on the first day of Sixth Grade. He visits two or three times a week, talking to her and hoping she will wake.
Carl may just be the key to breaking the spell that holds Beth in its grip. Her mother has a desperate plan to free her Pretty Princess from eternal slumber, but it won't be easy. Carl must overcome his doubts and believe in the power of love, and Beth's father Rex isn't interested in her waking up. After all, he's the one who put her to sleep in the first place. Can True Love's First Kiss really break the curse, or are darkness, insanity, and self-doubt too strong?
"Sleeping Beauty" is a creepy reimagining of a familiar story that explores what happens when parents go too far to protect their children. A cautionary tale, it reminds us there is a fine line between love and obsession, between care and cruelty.
Available here (confirm still free before downloading):