No Comments
Free Three Scifi & Fantasy Kindle Books!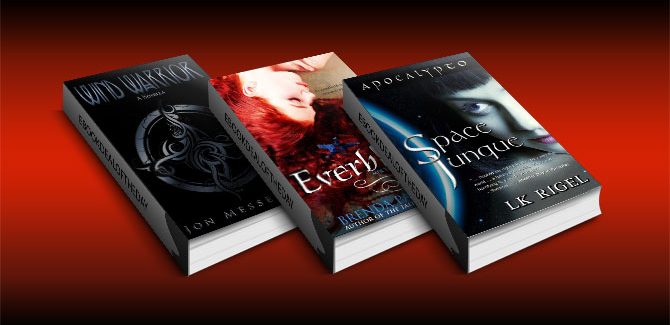 "Everblue (Mer Tales, Book 1)" by Brenda Pandos
Genre: YA, Fantasy Romance
She wanted her life to change … he wanted his to stay the same.
Seventeen-year-old Ashlyn Lanski is tired of her boring, single life. Swimming and spending time with Tatiana, her best friend, are her only sanctuary. The girls plan to leave their drab lakeside town far behind for college, and Ash hopes to finally ditch her longtime crush for Finley, Tatiana's twin brother. But when Tatiana and her family fail to return home after a family emergency, Ashlyn chooses to do something drastic to find them.
Finley Helton and his family are good at blending in as they run their sailing charter business in Lake Tahoe. But together, they guard an ancient secret. When a not so routine meeting forces Finley, Tatiana and their mother to return to Natatoria and Fin's father on a dangerous mission, Fin can't stay caged up for long.
Secrets lurk beneath the deep blue waters of Lake Tahoe, and a simple lifesaving kiss could change their lives forever.
"Wind Warrior-The Novella (World Aflame)" by Jon Messenger
Genre: Scifi & Fantasy
The sleepy town of White Halls harbors a dangerous secret. On a picturesque street, two houses down from a lovely little park, in a quaint little home with a wraparound porch, lives a family that seems rather normal. Sure, their twenty year old son, Xander, still lives at home, but he's going to college and dating the leader of the schools top sorority. It's all very… normal. However, when a man is miraculously saved from being hit by a bus, Xander's life turns in to the living embodiment of the tornadoes he can suddenly create with a flick of his wrist. Whether he wants this gift or not, Xander must learn to use his new 'super power' quickly if he wants to survive. For his kind is a dying race, and when this sleepy town has a sudden influx of new, blonde, fire wielders, no one is safe, especially Xander. It doesn't help that one of these blondes happens to be the most beautiful girl he has ever seen. Xander can't deny the instant connection he feels to her so, when she tries to kill him, it certainly makes things complicated.
"Space Junque (Apocalypto 1)" by L.K. Rigel
Genre: Dystopian, Scifi & Fantasy
The DOGs want to destroy the world. The gods want to make a new one. The trick is to survive both.
Fleeing an impending government quarantine, Char Meadowlark's only hope is Jake Ardri, cocky pilot of the shuttle Space Junque. They escape to the orbiting Imperial Station as global war consumes the earth below and threatens all human existence.
When the ancient gods return to save humanity, Char and Jake are caught up in their divine plan ~ but first they have to survive the apocalypse.