No Comments
Free Three Romantic Fictions this Thursday!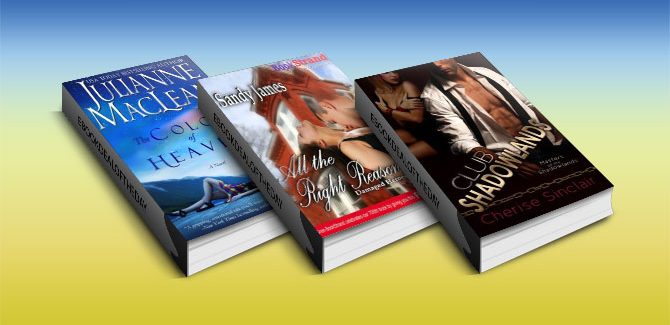 Free! "The Color of Heaven" by Julianne MacLean
A deeply emotional tale about Sophie Duncan, a successful columnist whose world falls apart after her daughter's unexpected illness and her husband's shocking affair. When it seems nothing else could possibly go wrong, her car skids off an icy road and plunges into a frozen lake. There, in the cold dark depths of the water, a profound and extraordinary experience unlocks the surprising secrets from Sophie's past, and teaches her what it means to truly live…and love.
Full of surprising twists and turns and a near-death experience that will leave you breathless, this story is not to be missed.
"All The Right Reasons [Damaged Heroes 3]" by Sandy James
Can love heal all wounds?
Lucas Mitchell returned from Iraq a bitter, changed man, wracked with guilt over his friend's death. He buys an old mansion and deals with his injuries and grief by restoring his new home and rehabilitating retired racehorses. Joy Kovacs falls in love with Lucas at first sight. Descended from gypsies who are still influenced by the lingering effects of the Holocaust, her family follows the traditional ways. A husband has already been selected for her, and her father insists she work at their ethnic restaurant. But Joy wants to use her talent and be an artist, and she wants no one but Lucas. How can Joy find a way to help Lucas break out of his prison of grief? Although they've committed their hearts to each other, can the growing love and passion between Lucas and Joy survive her family's insistence that she marry within her culture?
** A BookStrand Mainstream Romance
"Club Shadowlands: Masters of the Shadowlands 1" by Cherise Sinclair
Blundering into a BDSM club, accountant Jessica attracts the owner's attention. When Master Z discovers her interest in BDSM, he can't resist tying her up and unleashing the passion she hides within.