No Comments
Free Three Romances Kindle Books!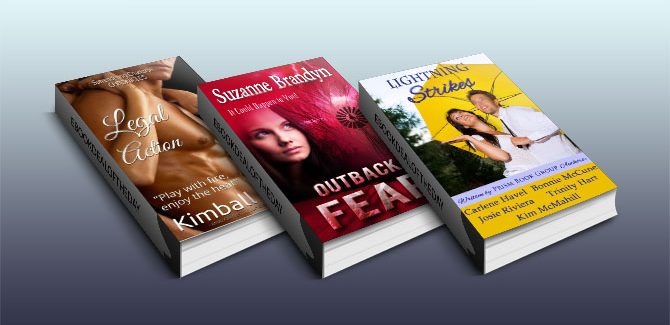 "Legal Action (Surrendering Charlotte Chronicles)" by Kimball Lee
Genre: Adult Fiction, Contemporary Romance, Erotica
Bright, beautiful Attorney, Charlotte Christiansen has never lost a court case. She's built a reputation as a cool, on the rise lawyer while trying to escape the 'naughty cheerleader' pictorial in American Jock magazine that she posed for to pay her way through law school.
She shares the top floor of a historic San Diego building with her best friends from college who happen to be two very male, very sexy Special Forces operatives. Her ex is a celebrity NFL quarterback who could pass for a Viking God. She's surrounded by hot men but her life revolves around work and she doesn't have time for love or sex.
Until Alexander Bly, the stop-the-clock gorgeous, billionaire publishing magnate becomes her newest client at the law firm. He's the man responsible for the magazine cover that turned Charlotte into everyman's sex fantasy. Bly has had women and the world at his beck and call, but no woman has ever rocked his world. Charlotte is about to. When they come together the desire and sex are white-hot and all-consuming, but falling in love takes them completely by surprise.
As Charlotte handles Bly's lawsuit against Huang Worldwide Corporation, scary, smooth and sexy Jamey Huang kidnaps her. But, Huang doesn't want Bly's billions, he wants Charlotte's secret, former lover. Legal Action is a sexy romance filled with burn-up-the-pages sex, tender love and witty, sharp-tongued characters with a little espionage thrown in for even more spicy fun.
The novella is part one of the Surrendering Charlotte Chronicles.
"Outback Fear" by Suzanne Brandyn
Genre: Contemporary Romance, Women's Fiction, Romantic Suspense
Suspense with a touch of romance
Savannah Harris is determined to raise her three-month-old daughter in the best possible environment, and returns home to Grace Creek, an inheritance from her recently deceased mother.
But even this peaceful property cannot cocoon her from her abusive husband or a stranger who plans to rip her life apart.
In an atmosphere thick with fear, Savannah realises she cannot keep running, she must fight back or risk losing not only her life, but the only family she has left, her precious daughter.
"Lightning Strikes" by Josie Riviera
Genre: Christian Fiction, Romance and Anthologies
After a storm, a major power outage leaves two at-odds neighbors dependent on each other. Forced to unite, will their animosity for each other crash like thunder or will they discover love as lightning strikes?
Please note: Lightning Strikes and After the Storm (also available) are short stories written in round-robin style by numerous authors of Prism Book Group during a promotional event. Each contributor had the opportunity to add a section, and take the story where they chose. The authors had a good time pulling this together! Now that the event is over, they are offering it free of charge for readers who would enjoy the opportunity to read it. It is meant as fun, merely to showcase various writing styles, and is not intended as a novel.