No Comments
Free Three Romance Kindle Books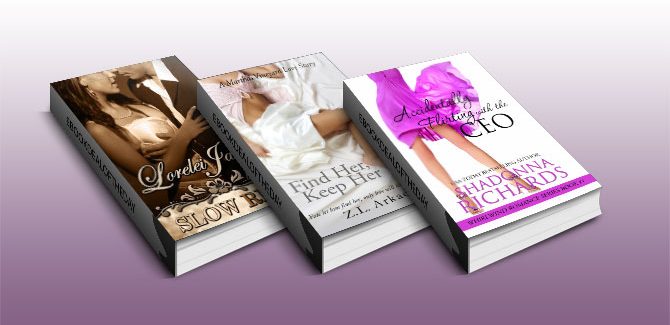 Free! "Slow Ride (Rough Riders)" by Lorelei James
Genre: Western Romance
Keely McKay Donohue is enduring the longest wedding reception of her life: her own. The only saving grace is that Jack Donohue is finally hers. Usually her hunky man gives her everything she wants, so why is her groom denying her the one thing she wants right now?
Jack thought his secretive wait-for-the-honeymoon plan was romantic, until he realizes he's only put Keely in a fighting mood. If he wants to get back on his temperamental bride's good side, he'd better find a way to sweep his cowgirl off her boots…fast.
"Find Her, Keep Her – A Martha's Vineyard Love Story (LOVE in the USA, #1)" by Z.L. Arkadie
Genre: Contemporary Romance
Travel writer, Daisy Blanchard has just discovered the worst news ever. Her boyfriend is now engaged to her best friend! And to add insult to injury, she learned about the blessed event through a Facebook status update. Daisy escapes her life in shambles by accepting a last minute assignment to Martha's Vineyard where she immediately catches the eyes of billionaire Belmont Jaxson Lord.
Thanks to Belmont's relentless pursuit, they fall hard and fast for each other. However, Belmont has a secret that's revealed after Daisy receives an unexpected and unwelcomed visit from the last two people in the world she wants to see. Their steamy love affair comes to a grinding halt. But it was the hand of fate that led him to find her–will the same force of nature let him keep her?
"Accidentally Flirting with the CEO (Whirlwind Romance Series)" by A. Gardner
Genre: Romantic Comedy
What happens when a seductive e-mail goes to the wrong recipient–your boss?

If Jess Tandon were any hotter, he'd be a fire hazard! The sexy, arrogant president of TLC Advertising is more than just delicious eye-candy. He's caught the eyes and heart of his normally-play it safe executive assistant, Alexa Worthington.
Too bad the only sex Alexa is having is safe text. She's only just gotten over tragic heartbreak in her life, but she wants to move on now. She takes a romance writing class for therapy and creates a sizzling fantasy love scene starring her boss, Jess, and herself. When she e-mails it to a friend to critique, it ends up going to the wrong recipient–to Jess himself. Is this a disaster waiting to happen–or the beginning of something too hot to handle?