No Comments
Free Three Mystery, Thriller & Suspense Nook books!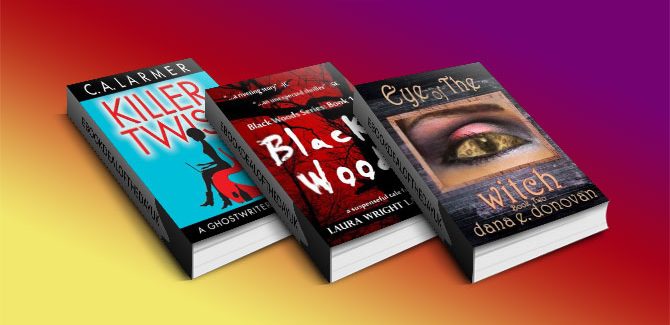 "Killer Twist (Ghostwriter Mystery 1)" by Christina Larmer
No one bats an eyelid when a bag lady washes up on the shores of Sydney, minus five fingers and decked out in designer couture; nor is anyone too perturbed when socialite Beatrice Musgrave plunges to her death soon after. No one, that is, except ghostwriter and Merlot-lover Roxy Parker. She's been writing Beattie's 'autobiography' and has just stumbled on a secret that's worth killing for.
"Black Woods: Book 1 (Black Woods Series)" by Laura Wright LaRoche
Avid mushroom hunters and volunteers with the local Search and Rescue Department, Laura and Julie, who are in their sixties, remember that first encounter in the woods years ago.
Four young men, who are fun by nature, travel to the woods with high hopes of a hunt they won't forget.
A call to the Search and Rescue Department will bring them shockingly together in the…
Black Woods.
Adult Language

"Eye of the Witch" by Dana E. Donovan
Book 2 in the Detective Marcella Witch's series: Pride, paranoia and paranormal forces all conspire to derail Detective Marcella's investigation into a series of suspicious suicides in New Castle, Massachusetts. In this sequel to The Witch's Ladder, Marcella learns that because of the ties that bind their pasts, every potential victim is also a possible suspect.