No Comments
Free Three Kindle Books!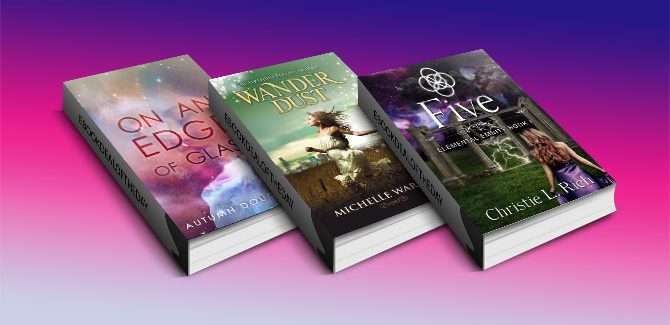 "Five (Elemental Enmity Book I)" by Christie Rich
Genre: Fantasy, Young Adult
Rayla Tate dreams of escaping her ordinary world for a bright future in the art world. Throw in an overbearing aunt who is keeping major secrets, a disgruntled best friend tagging along to college, and a bunch of fae warriors waiting in the wings to claim her the minute she leaves her sleepy little town, and Rayla's dreams are about to shatter.
She soon discovers she is a coveted Elemental with power she never knew she possessed–a power that could change the world. Everywhere she turns another man tries to woo her. The weird part is she's drawn to each one of them. Who are these strange men, and what dark power do they hold over her? Rayla must quickly learn to fend off these beautiful and seductive pursuers using any means necessary or find herself lost to the fae world forever.
"Wander Dust (The Seraphina Parrish Trilogy – Book 1)" by Michelle Warren
Genre: Adventure, Time Travel, Romance
Ever since her sixteenth birthday, strange things keep happening to Seraphina Parrish.
The Lady in Black burns Sera's memories.
Unexplainable Premonitions catapult her to other cities.
The Grungy Gang wants to kill her.
And a beautiful, mysterious boy stalks her.
But when Sera moves to Chicago, and her aunt reveals their family connection to a centuries old, secret society, she is immediately thrust into an unbelievable fantasy world, leading her on a quest to unravel the mysteries that plague her. In the end, their meanings crash into an epic struggle of loyalty and betrayal, and she'll be forced to choose between the boy who has stolen her heart and the thing she desires most.
Wander Dust is the breathtaking fantasy that will catapult you through a story of time, adventure, and love.
"On Edge of Glass" by Autumn Doughton
Genre: New Adult, Romance
You can't plan for everything…
That's what Ellie Glass realizes after she has a chance encounter with a young musician. Long-haired, a bit scruffy, and undeniably sexy, he's the exact opposite of her "type," but now Ellie can't stop thinking about him. When fate intervenes and the two are thrown together, Ellie gets more than she bargained for. Pretty soon she finds herself feeling and doing things that she never thought were possible.
This is the captivating story of an undeniable attraction, the choices that we make, and ultimately, the unexpected power of love.