2 Comments
Free Three Kindle Books on Different Genres this Thursday!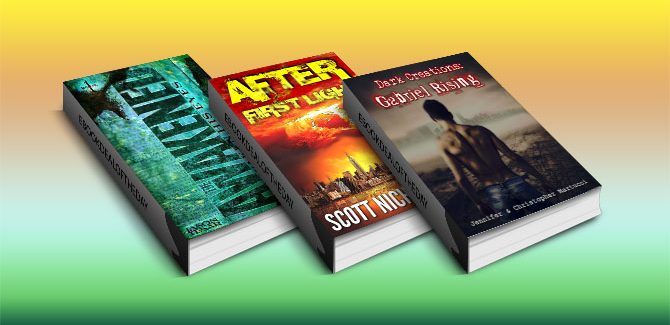 "After: First Light (AFTER post-apocalyptic series, Book 0)" by Scott Nicholson
Genre: Post Apocalyptic
A massive solar storm erases the world's technological infrastructure and kills billions. While the remaining humans are struggling to adapt and survive, they notice that some among them are…changed.
"Dark Creations: Gabriel Rising (Part 1)" by Jennifer Martucci
Genre: YA, Paranormal Romance
When Gabriel James mysteriously appears in seventeen-year-old Melissa Martin's English class, she is not prepared for what she experiences, how she feels the first time they speak. With otherworldly attractiveness, gallantry, charm and intelligence, he is everything boys her age are not.
But Gabriel has a secret, a dark secret.
His secret threatens to rip them apart and unleash an evil on the world so horrific, humanity will be forever changed.
In this deeply romantic and captivating young adult paranormal romance novel, Gabriel and Melissa will risk everything – their very lives – to guard their love. Together, they will be forced to confront mankind's darkest creation.
"Awaken His Eyes: The Awakened Book One" by Jason Tesar
Genre: Scifi & Fantasy, Military/Political Suspense
The physical dimension is fractured. What remain are numerous fragmented worlds moving simultaneously through time, sharing a common history, connected only by a guarded portal.
On a parallel earth, in the city of Bastul, Colonel Adair Lorus disappears while investigating the death of an informant, triggering a series of events which will tear his family apart and set in motion the resolution of an ancient struggle. Kael, sentenced to death after rising up against the cruel leadership of his new step-father, is rescued from prison and trained in the arts of war by a mystical order of clerics. Excelling in every aspect of his training, Kael inwardly struggles to give himself fully to the methods of his new family, or the god they worship. Maeryn, bitter over the disappearance of her husband and supposed execution of her son, fears for her life at the hands of her newly appointed husband. Finding comfort and purpose in her unborn child, she determines to undermine his authority by reaching out to an underground social movement known as the Resistance. After being forced from his home, Kael's former mentor, Saba, uncovers a clue to Adair's disappearance. Sensing a connection to his own forgotten past, Saba begins an investigation which leads to the discovery of a secret military organization operating within the Orudan Empire.