No Comments
Free Three Futuristic, Historical and TimeTravel Romance Kindle books!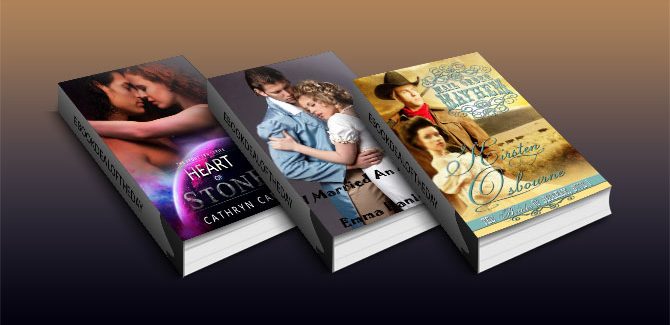 Free! "Heart of Stone (Frontiera Series)" by Cathryn Cade
Genre: Scifi & Fantasy, Space Opera, Romance
He's an ex-space pirate who's changed his wicked ways … or has he?
On the wild planet of Frontiera, Rose Thorne is out to save her brother. But when she holds his disreputable boss at gunpoint, Stone Masterson shows her just how ruthless he can be … and how tender. With space pirates on the loose, is she safe in his arms, or is she just another pawn in his struggle to rule this new planet?
"I MARRIED AN ALIEN(THE TREATY SERIES)" by Emma Daniels
Genre: Futuristic, Time Travel Romance
When Ruth Clarke volunteers for an experiment to see into the future, she thinks it's a bit of a joke. But when Professor Jackson ups the power, Ruth ends up catapulted three hundred years into the future, into the body of Anita DeBurgh, a beautiful woman half her age.
Anita is on her way to another planet called Terron to fulfill her tour of duty as per the requirements of The Treaty. So when Ruth arrives she very quickly finds herself married to Jordan Demantena, who claims she is his life-mate.
As Ruth struggles to acclimatise to marriage to a tall, handsome and incredibly sexy alien, there are intergalactic terrorists after Anita.
Ruth and Jordan are soon running for their lives, trying to discover just what Anita knew and how to stop a potential war between Earth and Terron that could cost millions of lives.
"Mail Order Mayhem (Brides of Beckham)" by Kirsten Osbourne
Genre: Westerns, Historical Romance
When Maude is told she must marry a repulsive man, she instead responds to an Iowa farmer who is looking for a mail order bride. After sneaking out of town on a train, she goes to Iowa and marries. She quickly falls for the wonderful man she marries, but does he feel the same? And will she be able to escape her past?