No Comments
Free Three Contemporary Romance Kindle Books this Wednesday!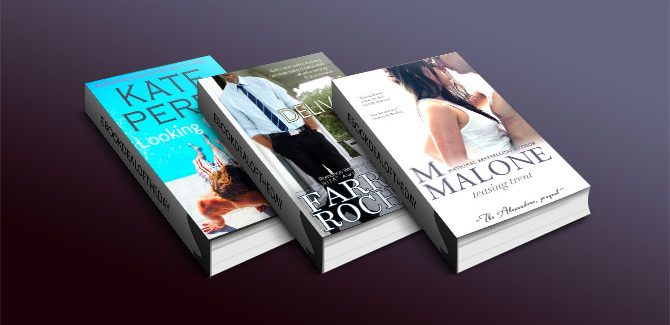 "Looking for You (A Laurel Heights Novel)" by Kate Perry
A Laurel Heights Novel, Book 4
Gwendolyn Pierce has a secret. A big secret.
No one knows that the gourd artist is really the missing Grape Princess–the wine heiress who ran away fourteen years before. And that's the way Gwen likes it. No paparazzi recording her every mistake, no stern family disapproving of her life. She has her gourd shop in Laurel Heights and lives in peaceful bliss.
Until she meets Rick Clancy.
The last person she should get involved with is a private investigator who finds her as suspicious as he does sexy. Only she can't help herself, and she can't help wondering if she can trust him with her secrets–and her heart.
"Deliver Me (The Holmes Brothers)" by Farrah Rochon
Originally published by Dorchester Publishing, March 2007
After being dumped by her boyfriend and passed over for yet another promotion, Monica Gardner moves to New Orleans, determined to make a name for herself as the new attending ER physician at Methodist Memorial Hospital. As for men–she's through with them. But when given the chance to chair the hospital's annual charity banquet, Monica must elicit the help of gorgeous Ob-gyn Elijah Holmes.
Eli will do anything to thwart his matchmaking Mama's plan to reunite him with his high school girlfriend. So, when the sexy new ER doc asks for his help in planning this year's charity banquet, Eli devises the perfect scheme: He'll help put on the best banquet the hospital has ever seen, if Monica poses as his new girlfriend. But when Eli finds himself falling in love, he realizes convincing Monica of his true feelings may be his greatest delivery yet.
"Teasing Trent (The Alexanders)" by M. Malone
One girl. One guy. One unforgettable night.
The only thing Trent's best friend has ever asked of him is to keep an eye on his twin sister while he's deployed. Keeping her company on her birthday shouldn't be too hard. He just has to remember the promise he made to himself in college to keep his hands off her.
Which is getting harder and harder by the day.
Ever since Mara walked into her brother's dorm room freshman year and came face to face with a shirtless Trent, she's known he was The One. He's been right there with her twin brother as her biggest supporter or shoulder to cry on, whichever she needs most. The problem?
Trent has no idea how she feels.
Well, it's her first birthday without her twin and Trent's coming over to keep her company. It's the perfect time to tease him a little. A skimpy yoga outfit and a few glasses of wine later, she plans to finally have Trent exactly where she wants him. In her bed, for as long as she can keep him there.
If Mara has her way, she'll get a whole lot more for her birthday than a Hallmark card.