No Comments
Free Three Children's Fiction Nook Books this Friday!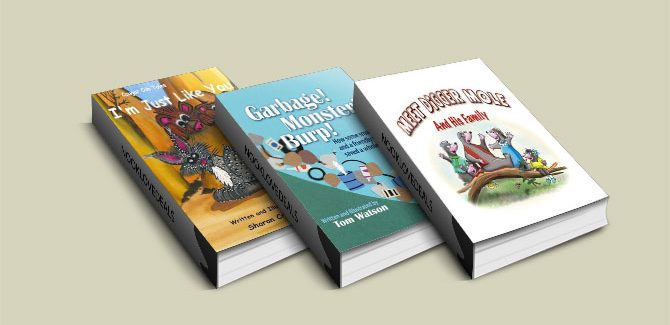 "Meet Digger Mole" by Alan Scouse
"Digger" Mole and his wife "Molly" Mole live in the forest with their children "Melanie Mole, "Dapper" Mole and "Dinky" Mole…… We will meet them and get to know them as they live and prosper through the seasons in the forest…… Soon we will be following the adventures of the moles and their many relatives, at home and abroad, on land, at sea, and in the air.
"Garbage! Monster! Burp!" by Tom Watson
A monster at the bottom of a hill eats all of the garbage generated by the town on top of the hill. This provides two important benefits: The monster is happy with plenty to eat and the town stays nice and clean. Unfortunately, as the town grows, so does the amount of garbage the monster must consume. He gets bigger – and he starts burping. This is, as you can probably guess, a bit unsightly and stinky. In the end, the kids figure out how to solve the problem – despite the nasty mayor's doubts and objections.
"Cougar Cub Tales: I'm Just Like You" by Sharon Cramer
Cougar Cub Tales: I'm Just Like You is about a cougar cub brother and sister who encounter a creature very unlike themselves. They have ungrounded apprehension about whether or not the blind bobcat is "a real cougar cub". By the end of the tale, they realize that they really ARE the same, overlooking their fears and differences as they embrace their new friend. Eighteen watercolors.