No Comments
Free Paranormal Romance Nook books this Friday!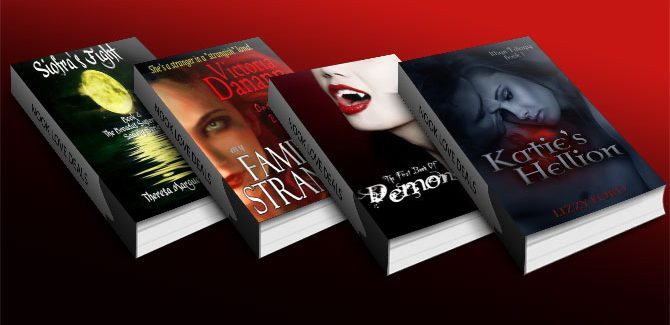 "Katie's Hellion (Rhyn Trilogy, Book One)" by Lizzy Ford
[/lightbox]
Barnes&Noble
[/one_third_last]
"Siofra's Fight: Book 4 The Broadus Supernatural Society Series" by Theresa Marguerite Hewitt
[/lightbox]
Barnes&Noble
[/one_third_last]
"My Familiar Stranger: Romancing the Vampire Hunters" by Victoria Danann
Genre: Paranormal Romance
A secret society, modern day knights, an accidental pilgrim from an alternate dimension, and a vampire like no other come together where chance intersects romance for a once-in-a-lifetime adventure proving that true love can find you in the strangest places, even far, far from home. Minutes ahead of inevitable assassination, Elora Laiken is forcibly transported to an alternate dimension similar, but not identical, to her own.
Of course a girl could suffer worse problems than having gorgeous suitors. Perhaps more importantly, in the midst of an epidemic of vampire related abductions, can she stay alive long enough to choose between an honor debt, true love, or the breathlessness of single-minded passion?
"The First Book of Demons" by Raquel Dove
Genre: Paranormal Romance
Alexandra Bastien is a strong-willed girl with a clumsy nature and untold powers that she hasn't a clue how to use. An encounter in the woods leads her to the destiny that has been haunting her since birth, and she finds herself thrust into a world of bloodthirsty demons.
As the demon prince, Balthazar, vies against his own half-brother for control of the kingdom, the thing he needs most lands fortuitously in his lap. Unfortunately, she comes complete with a mouth that doesn't know when to stay shut.
By the time Balthazar realizes just how much Alexandra means to him, it may be too late.