No Comments
Free Mystery, Thriller & Suspense Ebooks this Monday!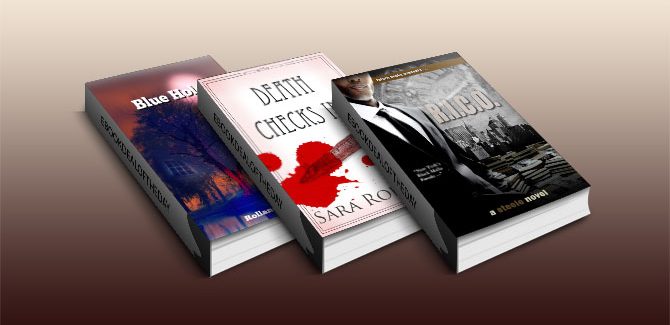 "Death Checks Inn (Aspen Valley Inn Series)" by Sara Robbins
Genre: Romantic Suspense
Finally, Lacey Washburn is ready for the grand opening celebration for the Aspen Valley Inn. Everything is perfect except for two problems. First,the dead man at the bottom of the stairs actually died seven years ago. Second, Lacey had sworn off men forever so why is she so interested in the handsome sheriff investigating the murder.
This is a novella of approximately 25,000 words and the first book in the Aspen Valley Inn Series.
A beautiful Colorado location, interesting characters and just enough love and murder.
"Ozark Mountains BLUE HOLE" by Rolland Love
Genre: Mystery, Suspense
Blue Hole and the SEQUEL River's Edge are mystery suspense novels set in the Ozark Mountains that have received over (200) five star reviews. ★★★★★ … In the second novel I aged the two brothers Dub and Tommy in Blue Hole by 50 years and made them grandfathers. They take their grandsons back to Blue Hole where a murder occurred the last time they were there in 1949.
The story is based on a tale my grandfather told about a murder where a body was found floating in a swimming hole in a remote area of the Ozark Mountains. The name Blue Hole comes from the sky blue color of a deep pool of water where a spring runs into the Jacks Fork river from the mouth of a cave. Jacks Fork was named one of the most scenic float and fishing streams in the world by Life Magazine.

"R.I.C.O." by Tony Steele
Genre: Political fiction, Thriller
When 12-year-old Dmitri Burke's father is murdered, he provides a steady income for his family by running numbers for Mafia boss, Paul D'Annunzio. His plans to establish his own crime family are derailed when he takes a murder rap for his boss. His act of loyalty doesn't go unnoticed by Paul, who makes Dmitri boss of Harlem after his release from prison. Soon his crime family, the Commission, becomes one of the most powerful, feared, and well-respected criminal organizations in New York.
But the Commission isn't the only crime family vying for position, and not everyone agrees with Dmitri's business operations, including a member of his own family. Faced with threats from countless enemies, Dmitri still has to balance love with a new woman in his life, Isis Kelley. She managed to steal his heart … while it seems the world is trying desperately to steal his life.