No Comments
Free Amish, Christian and Historical Fiction Nook books!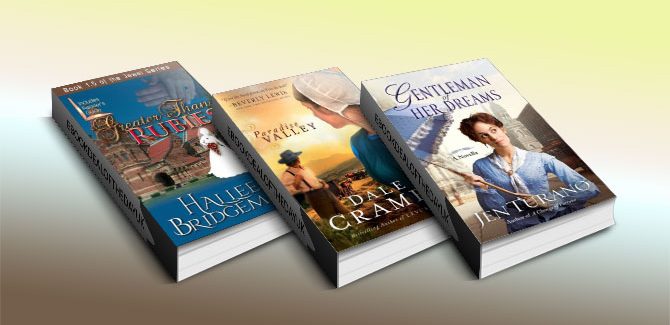 "Greater Than Rubies: Novella Inspired by the Jewel Trilogy" by Hallee Bridgeman
Genre: Christian Romance
Robin Bartlett said yes. Soon, she will say I do. Or will she? Robin is planning her dream wedding to Antonio "Tony" Viscolli. Anxiety hits when she realizes the magnitude of marrying one of Boston's "Royal Family." While juggling wedding stress, her father's legal problems, and Tony's recent taking on of a ward — forgotten nightmares return reminding Robin of the horrors of her past.
"Paradise Valley (The Daughters of Caleb Bender Book #1)" by Dale Cramer
Genre: Amish Fiction
An Amish settlement in Ohio has run afoul of a law requiring their children to attend public school. Caleb Bender and his neighbors are arrested for neglect, with the state ordering the children be placed in an institution. Among them are Caleb's teenage daughter, Rachel, and the boy she has her eye on, Jake Weaver. Romance blooms between the two when Rachel helps Jake escape the children's home.
Searching for a place to relocate his family where no such laws apply, Caleb learns there's inexpensive land for sale in Mexico, a place called Paradise Valley. Despite rumors of instability in the wake of the Mexican revolution, the Amish community decides this is their answer. And since it was Caleb's idea, he and his family will be the pioneers. They will send for the others once he's established a foothold and assessed the situation.
Caleb's daughters are thrown into turmoil. Rachel doesn't want to leave Jake. Her sister, Emma, who has been courting Levi Mullet, fears her dreams of marriage will be dashed. Miriam has never had a beau and is acutely aware there will be no prospects in Mexico.
Once there, they meet Domingo, a young man and guide who takes a liking to Miriam, something her father would never approve. While Paradise Valley is everything they'd hoped it would be, it isn't long before the bandits start giving them trouble, threatening to upset the fledgling Amish settlement, even putting their lives in danger. Thankfully no one has been harmed so far, anyway.
"Gentleman of Her Dreams: A Ladies of Distinction novella" by Jen Turano
Genre: Historical Romance
When Miss Charlotte Wilson asks God for a husband, she decides He must want her to pursue Mr. Hamilton Beckett, the catch of the season. The only problem? She's never actually met him. Fortunately, one of her oldest and dearest friends, Mr. Henry St. James, is acquainted with Hamilton. Much to Henry's chagrin, Charlotte immediately ropes him into helping her meet her intended. However, none of her plans to catch Hamilton's eye go quite as she expected. In the midst of the mayhem Charlotte always seems to cause, she can't help but wonder if she might have misheard God after all.
This novella is a companion to A Change of Fortune, Jen Turano's full-length debut novel, available fall 2012!