No Comments
Four Free Romance Kindle Books this Wednesday!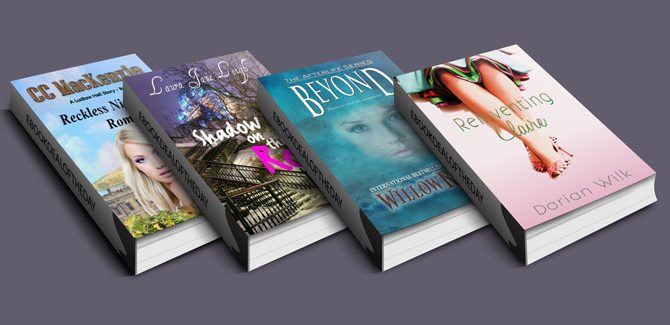 "Reckless Nights in Rome" by CC MacKenzie
Though the name of her celebration and wedding cake business is up in lights, Bronte Ludlow doesn't care for the trappings of success. All that matters to her is her company, her independence and her heritage,The Dower House. Home to her ancestors since the seventeenth century, no way will she part with it to 'a man with too much money and no soul'.
Nico Ferranti's only passions are money and power… He's a man who stopped believing in romance long ago and Bronte's a romantic, yet the attraction sparking between them like fireworks over the Piazza del Popolo stuns Nico.
When Bronte's brother is badly hurt in a car accident in Rome, Nico whisks Bronte to the Eternal City. He wants her and he wants The Dower House and Nico Ferranti always gets what he wants.
But Bronte's heart has already been broken by one ruthless charmer and although tempted she isn't about to give up either her heart or her home to the charismatic Italian without a fight!
"Shadow on the Rose" by Laura Jane Leigh
Marion is thrilled when she and her husband, James, buy a lovely, old mansion with a rose garden. After they move in, however, she falls ill and must stay at home to rest. Alone and depressed, she begins to have strange dreams which seem to take her back into the past. Although James is skeptical, Marion believes that when she sleeps, she is leading the life of a young Victorian woman, Mariana.
Mariana used to visit the house as a guest of her friend Rosamund, whose mother is thought to have drowned while rowing on the river with her husband. During her stays with the family, Mariana comes to suspect that the death was not an accident. She investigates, but meets with obstacles that prevent her from finding the full truth.
Eighty years later, Marion takes up the search. The scene shifts back and forth from the nineteenth century to the twentieth, as her discoveries push forward those of her Victorian alter ego. The latter, after she accuses someone of murder, is never entirely free from doubt: she thinks she may have persecuted an innocent person. By determining what really happened, Marion thinks she can drive away the guilt that has been hovering about the house like a ghost. What she fails to see is that her obsession is damaging her relationship with James. If she's not careful, she'll destroy her marriage and her future happiness.
Note: Canadian spelling is used throughout.
"Beyond (Afterlife #1)" by Willow Rose
Death is only the beginning …
Meghan is 16 when she dies.
She wakes up on a flying steamboat on her way to a school run by Angels in a white marble castle.
On the boat she meets Mick who has been dead for more than a hundred years but still looks like a teenager. He helps her past the difficult beginning at the new school in a new world filled with magic.
One day some of Meghan's roommates find a mirror in the cellar of the school and they persuade her to go through it with them – well knowing it is strictly against the rules of the school. Meghan ends up back on earth where she meets Jason. But Jason is in danger and Meghan knows something important. Something that is a matter of life and death. Soon she is forced to choose between the two worlds. The one she belongs to now and the one she left.
"Reinventing Claire" by Darian Wilk
People get divorced, but that's what happens to other people. That's what Claire thought anyway, until her husband, Charlie, tells her he wants a divorce.
Claire has no choice but to take on the title of Divorced Woman, and face the question she has no idea how to answer. Who is Claire without Charlie? Her family believes her newly divorced woes can be cured by landing herself a boyfriend. With her dating dunce cap in hand, Claire stumbles her way through the foreign territory of online dating.
A teacher from hell, a softball coach, and a sap later, Claire proclaims herself the dating idiot she thought she was, and fears she's doomed to be a lonely, crazy cat lady. But an accidental run-in with an old acquaintance might change everything. What starts with comparing dating battle wounds over a cup of coffee, quickly turns into something Claire had given up on.
As Claire discovers maybe there is love after Charlie after all, Charlie realizes his mistake. He wants her back, and he'll do anything to prove it to her. Now Claire must choose who deserves her heart, and if she's really willing to give it away again.