No Comments
Three Professors and a Naughty Co-ed – The Complete Novel by Dita Selby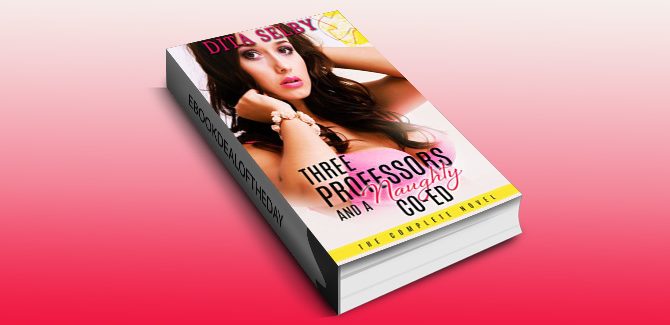 Realtime Pricing:$4.99

She wanted to save her first time for a real man who would have something to teach her, and ended up with three …
Sparks fly when innocent yet naughty co-ed Tara meets not one but three hot professors in the history department.
When they find out she's been flirting with all of them, they come up with a plan to punish her, thus fulfilling her wildest fantasies.
By the end of that first torrid encounter, she's volunteered to submit to them and be their plaything for the rest of the school year …
More adventures in domination and submission ensue as her three professorial studs give her an extensive and very thorough carnal education, but will she be able to keep them when the school year ends?
Sizzling ménage romance with HEA, full-length novel at ~71,100 words. Contains adult themes, explicit sexual content and graphic language that may be objectionable to some readers. All characters are 18+.
Please note: the first third of the book contains some material that is an expansion of the first three installments of the original serialized version (Initiation, Submission, and Vacation), with newly added steamy scenes, while the rest of the book continues the story from there on with plenty of all-new material.
Genre: Erotica, Romance