No Comments
Beast Brothers 3: An MFM Twin Ménage Romance by Stephanie Brother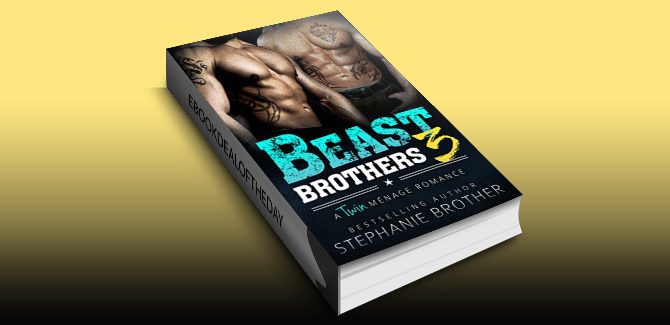 Realtime Pricing:$3.99

After I spot the sexiest man I've ever seen — tall, ripped, tattooed, and impossibly gorgeous — I spend weeks fantasizing about all the dirty, dirty things he could do to me.

When we finally meet, I'm ready for the hottest one-night fling ever — until he introduces me to his twin brother!
Unlike my besties, I've always thought two men were too much trouble. But Deke and Jake Abbott, leather-clad biker kings, might just change my mind.
They turn our one night into a pleasure-drenched weekend … and they're not through with me yet.
I've always wanted a man I can build a future with. My massive, muscled biker twins don't fit with my corporate career … so why can't I resist them?
I should be saying No, but they have me saying, Yes, please, don't stop!
This is a MFM ménage romance with a guaranteed happy ending. Though it's the third book in a series, each story stands alone. There are no M/M scenes – the beastly bikers are all about pleasing their woman.
Notice: this book includes "sneak peek" chapters for Beast Brothers 1 and Beast Brothers 2. The main book ends at approximately the 90% point.
Genre: Contemporary Romance, Ménage