No Comments
His Wicked Games Boxed Set by Ember Casey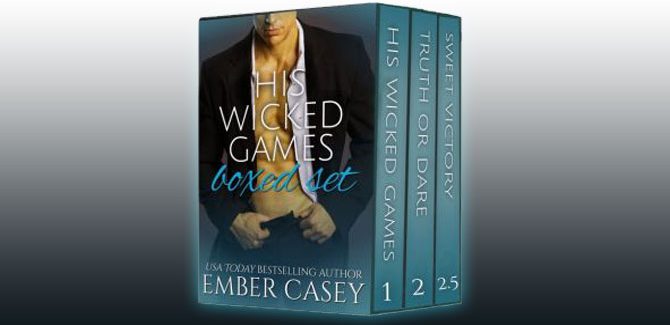 Realtime Pricing: iBook: $4.99
Love is about to get very wicked…
This bundle contains:
HIS WICKED GAMES (Book 1)
Trapped with a billionaire in his mysterious mansion… Can she beat him at his own game?
Lily Frazer would do anything to save the Frazer Center for the Arts–even take on the infamous billionaire Calder Cunningham. As it turns out, the arrogant billionaire is willing to give her the money he promised, but there's a catch: she must win it from him.
And the games he has in mind aren't exactly… innocent.
TRUTH OR DARE (Book 2)
Do they dare?
Lily and Calder are taking things to the next level — but love in the real world isn't all fun and games, especially when it becomes clear that Calder still harbors his share of secrets.
When Calder suddenly suggests they slow things down, Lily knows something is seriously wrong–and she's not afraid to pull out the big guns. She makes Calder a proposal he can't refuse: an ongoing match of Truth or Dare that she hopes will bring them closer together.
But as the contest increases in intensity, so do the stakes, and suddenly Lily and Calder have to face the question they've both been avoiding: what sort of relationship do they have when they strip away all the games?
SWEET VICTORY (Book 2.5)
One night. One game. One wicked experience they'll never forget…
It's Lily and Calder's first night in their new apartment–and Calder proposes a steamy showdown that's certain to leave both of them breathless. In a challenge like this, things are sure to get heated–but neither of them can be prepared for the surprises that await them as their ultimate game unfolds…
Genre: Contemporary Romance, General Romance