No Comments
Brother's Best Friend by Katy Kaylee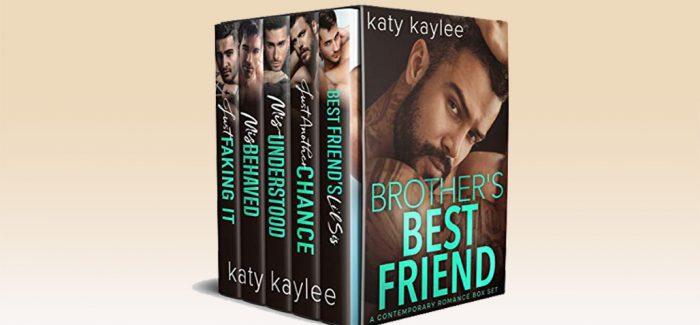 Realtime Price – $0.99
Second chance with my brother's best friend?
No way!
A collection of five smokin' hot brother's best friends romances. All books in the box set are full length (80,000 words each), standalone, second chance romances.
Best Friend's Li'l Sis:
I don't care if she's had kids since us – I've always wanted to be a dad.
She's my best friend's li'l sis – we'll figure that out.
I've got money – but I can't buy her.
I was her first – she was mine.
I want her to be my last.
Just Another Chance:
our attraction is instant, the chemistry undeniable and don't even get me started how good he is in bed.
I want him so bad, but can't let him know about our daughter.
There's no way our relationship could work.
They say war is hell, but isn't love a torture!
Misunderstood:
Well, sleeping with a client is a no-no.
Making out with him on my desk – a bigger no-no!
Making a baby with him?
What was I thinking!
Misbehaved:
Pregnant with my brother's best friend?
No, that can't happen!
They say, the universe always conspires to give you what yoú've always wanted.
In my case, it's revenge with Jax Michaels.
My brother's best friend, my sworn enemy, and now my new boss.
Just Faking It:
I seduced my brother's best friend to take my innocence,
And he convinced me to fake marry him!
Jake Dunne: Sinfully handsome. Naughty . Funny. Piercing Blue eyes. And kisses like nobody's business…
Jake Dunne: Also the man who broke my heart, five years ago.
My fake husband but my baby's REAL father!

Described as insanely hot, romantic, captivating and entertaining, grab this box set now to experience a roller coaster of emotions leading to the perfect HEA that you crave!

Genre: Contemporary Romance
Brother's Best Friend: A Contemporary Romance Box Set by Katy Kaylee