No Comments
8/31 Ebook Deal of Day: $2.99 "The HP Mallory 5 Boxed Set"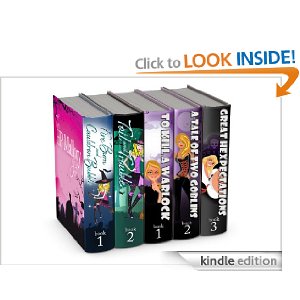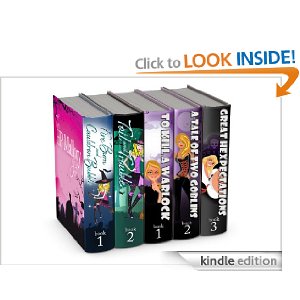 Ebook Deal of Day: $2.99 "The HP Mallory Set: Jolie Wilkins Books 1 & 2, Dulcie O'Neil Books 1, 2 & 3
"
Genre: Paranormal Romance

5 Book Set!
Fire Burn and Cauldron Bubble:
A self-deprecating witch with the unique ability to reanimate the dead.
A dangerously handsome warlock torn between being her boss and her would-be lover.
A six hundred year old English vampire with his own agenda; one that includes an appetite for witches.
The Underworld in a state of chaos.
Let the games begin.
Life isn't bad for psychic Jolie Wilkins. True, she doesn't have a love life to speak of, but she has a house in the suburbs of LA, a cat and a quirky best friend.
Enter Rand Balfour, a sinfully attractive warlock who insists she's a witch and who just might turn her life upside down. Rand hires her to help him solve a mystery regarding the death of his client who also happens to be a ghost. Jolie not only uncovers the cause of the ghost's demise but, in the process, she brings him back to life!
Word of Jolie's incredible ability to bring back the dead spreads like wildfire, putting her at the top of the Underworld's most wanted list. Consequently, she finds herself at the center of a custody battle between a villainous witch, a dangerous but oh-so-sexy vampire, and her warlock boss, Rand.
Toil and Trouble:
The Underworld in civil war.
The cause? A witch who can reanimate the dead.
A sexy as sin vampire determined to claim her.
An infuriatingly handsome warlock torn between duty and love.
Who says blonds have more fun?
After defending herself against fairy magic, Jolie wakes to find her world turned upside down—the creatures of the Underworld on the precipice of war.
The Underworld is polarized in a battle of witch against witch, creature against creature, led by the villainous Bella, who would be Queen.
While Jolie has one goal in mind, to stake the vampire, Ryder, who nearly killed her, she also must choose between the affections of her warlock employer, Rand, and the mysteriously sexy vampire, Sinjin.
And as if that weren't enough to ruin a girl's day, everything Jolie knows will be turned inside out when she's thrust into the shock of a lifetime.
To Kill A Warlock:
Dulcie O'Neil is a fairy. And not the type to frolic in gardens. She's a Regulator—a law-enforcement agent who monitors the creatures of the Netherworld to keep them from wreaking havoc in the mortal world.
When a warlock is murdered and Dulcie was the last person to see him alive, she must uncover the truth before she's either deported back to the Netherworld, or she becomes the next victim.
Enter Knight Vander, a sinfully attractive investigator sent from the Netherworld to work the case with Dulcie.
Between battling her attraction to her self-appointed partner, keeping a sadomasochistic demon in check, and fending off the advances of a sexy and powerful vampire, Dulcie's got her hands full.
As the body count increases, Dulcie finds herself battling dark magic, reconnoitering in S&M clubs and suffering the greatest of all betrayals.
A Tale of Two Goblins:
When Knight approaches Dulcie with a case regarding comatose victims, she agrees to help him, imagining the most difficult part will be combatting her attraction to him.
What Dulcie isn't betting on is the fact that the case becomes personal when she learns all the victims are linked to her.
When her best friend falls victim to the Dreamstalker, Dulcie must do everything in her power to ensure her friend's survival, including associating with criminals and accepting the fact that desperate times do call for desperate measures.
Great Hexpectations:
Dulcie O'Neil knows she's at fault for failing to arrest a wanted criminal but when her partner gets pinned for the crime, she'll stop at nothing to ensure his innocence.
What Dulcie isn't planning on is a trip to the infamous Netherworld where chaos rules.
Between battling the affections of a mysterious vampire, protecting herself from monsters and ensuring the innocence of the one man who would die for her, Dulcie's trip to the Netherworld isn't sunshine and strawberry daiquiris.