2 Comments
3 Free Fantasy Nooks this Thursday!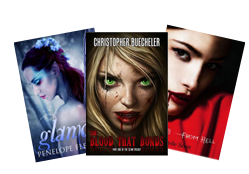 Glamour (Rae Wilder #1) by Penelope Fletcher
Rae Wilder has problems. Plunged into a world of dark magic, fierce creatures and ritual sacrifice, she is charged with a guarding a magical amulet. Rae finds herself beaten up, repeatedly, and forced to make a choice: to live and die human, or embrace her birth-right and wield magics that could turn her into something wicked, a force of nature nothing can control.
The Blood That Bonds by Christopher Buecheler
Two is trapped: hooked on heroin and forced to sell her body to feed the addiction. Her vampire lover Theroen can lift her from this dark life, but his plans conflict with those of the dangerous elder Abraham, to whom he is bonded by both blood and a long-held promise. Two enters a world of darkness, violence, and despair. She must fight for freedom, both for herself and for those she loves.
"A Job From Hell (Ancient Legends Book 1)" by Jayde Scott
The moment Amber starts her summer job in Scotland and sets eyes upon Aidan, her fate is sealed. Summoned by an ancient bond, she can never love another. Lost in the woods one night Amber enters Aidan's deadly world when she unknowingly participates in a paranormal race and promptly wins the first prize…a prize worth killing for.