No Comments
$2.99 "Uncle Bob's Money" by Uncle Bob Williams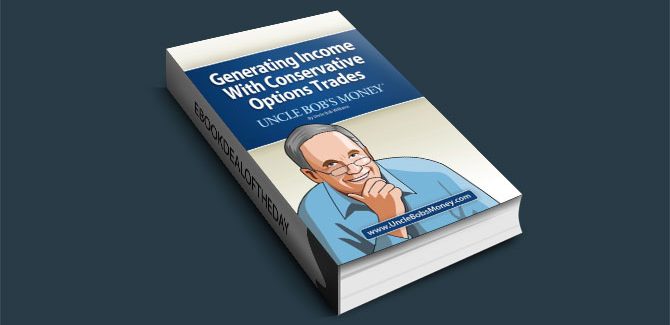 Ebook Deal of the Day: $2.99 "Uncle Bob's Money: Generating Income with Conservative Options Trades " by Uncle Bob Williams
Genre: Finance & Investing
WE BELIEVE:
Proven money-making secrets should not belong to the privileged few.
Every investor should know how to generate income using conservative options trades so the risk of loss is low.
It's important to shatter the mystery and secrecy to end the status quo, where options pit traders and large investment firms with math geniuses onboard are able to earn consistently using options trades while the rest struggle to find the same strategies they use.
TO THIS END:
This book provides all the learning materials you need to understand how to make income-generating options trades.
You can learn what you need to know, then walk away to start trading options profitably without ever coming back to us.
But we do hope you'll join our community of successful options investors, where you'll access super-easy tools to take the processes of successfully finding, trading and monitoring your options trades to maximum profitability.
– – – – – –
With UNCLE BOB'S MONEY you get:
(1) PORTFOLIO STABILITY
At last — here's your chance to make serious money year after year despite wild market volatility.
(2) PORTFOLIO GROWTH IN ALL MARKET CONDITIONS
Ignite your portfolio with our special method of non-directional trading. Now you'll make money whether the market goes up or down.
(3) CONTROL OF YOUR OWN FINANCIAL DESTINY
When you make the decision to work with Uncle Bob's Money, you stay in control. We don't have access to your account.
(4) A WEALTH-BUILDING PLAN THAT LEAVES THE HERD IN THE DUST
Market roulette anyone?
Uncle Bob's Money takes nothing for granted. Instead, we subject the movements of the Indexes we trade to the continual test of statistical probabilities – the same kinds of risk analysis an Insurance company uses to make an investment or even to evaluate a prospective policy holder.
(5) A SYSTEM WHICH FOCUSES ON YOUR FINANCIAL SUCCESS
We take the anxiety and guesswork out of structuring your portfolio.