No Comments
$0.99 "TOO LITTLE, TOO LATE" by Marta Tandori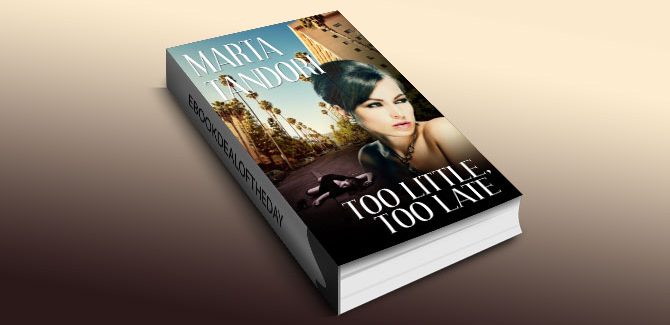 Ebook Deal of the Day:

$0.99 "TOO LITTLE, TOO LATE" by Marta Tandori
Genre: Family Saga, Suspense
A young runaway takes refuge in a makeshift shack under the Hollywood Freeway, forcing the autistic woman in it to find milk for her sickly newborn – a search that ultimately ends in tragedy when the woman is run down by a hit-and-run driver after a violent confrontation with several teenagers. When one of those teenagers, seventeen-year-old Karen Devane, is implicated in the woman's homicide, the tabloids are quick to exploit the tragedy, thanks to Karen's recent antics as a spoiled Tinseltown "celebrat" riding on the coattails of her famous grandmother, the legendary Kate Stanton. Complicating matters is the dead woman's daughter, who's determined that Karen be held accountable for her mother's death, even after the charges against Karen are dropped. With tensions between Karen and her family near breaking point and the paparazzi relentlessly hounding her every move, Karen makes a startling discovery which finally puts her on the road to redemption – and links the dead woman to her beloved grandmother.
Karen's discovery raises a host of troubling questions for Kate, forcing her to revisit the horrors of her past in search of answers. But Kate soon realizes that some questions are better left unasked after a seemingly random shooting leaves her granddaughter fighting for her life and Kate scrambling to stay one step ahead of a killer who's determined to end her life in order to save his own.