No Comments
$0.99 "It's Complicated" by Julia Kent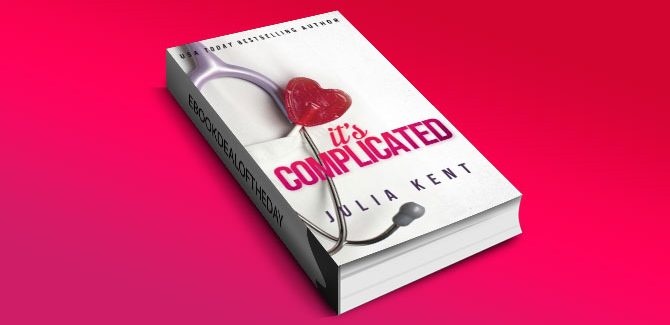 Ebook Deal of the Day: $0.99 "It's Complicated" by Julia Kent
Genre: Romance
Josie Mendham never meant to have her own (radically different) set of gasps and moans a few doors down from where her best friend, Laura, was giving birth. And stealing away with the obstetrician who was consulting on Laura's case certainly wasn't part of any birth plan.
When Dr. Alex Derjian watched the foursome enter the labor ward he did a doubletake: two dads? That defied biology as he knew it. Even more intriguing was the woman with the birthing mother and the fathers: Josie, the nurse he'd been watching from afar for months. One elevator kiss led to an on-call room soiree and soon he was breaking every romantic rule in his playbook.
Finding his way into her pants wouldn't be hard.
But into her heart? That would be a challenge.
As Josie's niece, Darla (from the USA Today Bestseller Random Acts of Crazy) moves in and her best friend, Laura (from the Her Two Billionaires series), becomes consumed by motherhood, romantic comedy meets New Adult romance in this 130,000 word/450 page novel that asks whether people can get out of their own way and learn that love isn't easy…but it's always worth it