No Comments
$0.99 "Dirty Little Secrets" by Julie Leto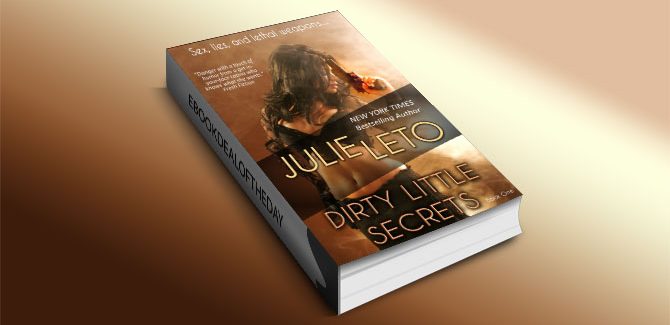 Buy from AmazonBuy from Barnes&Noble
Ebook Deal of the Day: $0.99 "Dirty Little Secrets: Sexy Suspense (Book 1, Dirty Series)" by Julie Leto
Genre:Romantic Suspense, Action & Adventure
With everyone telling Dirty Little Secrets…what's a girl gotta do to stay alive?
When former bounty hunter Marisela Morales learns that her ex-boyfriend, Frankie Vega, is about to jump bail, she accepts the job to lure him back home. She might have lost her license to carry—and with it, her career as a bail enforcement agent—but seducing Frankie into her clutches is what she does best.
Only this time, hooking up with her ex gets her more trouble than she bargained for. Catapulted into a treacherous underworld of arms dealers, assassins and sinister double-crosses, Marisela doesn't know if she's descended into hell or finally found herself in kick-ass heaven. With Frankie at her side, she impersonates a hired killer, dodges bombs and bullets…and struggles to figure out if her super-sexy lover is her ticket out of her previously mundane world—or if he's just setting her up to break her heart.
Again.